The Jordan Rody Band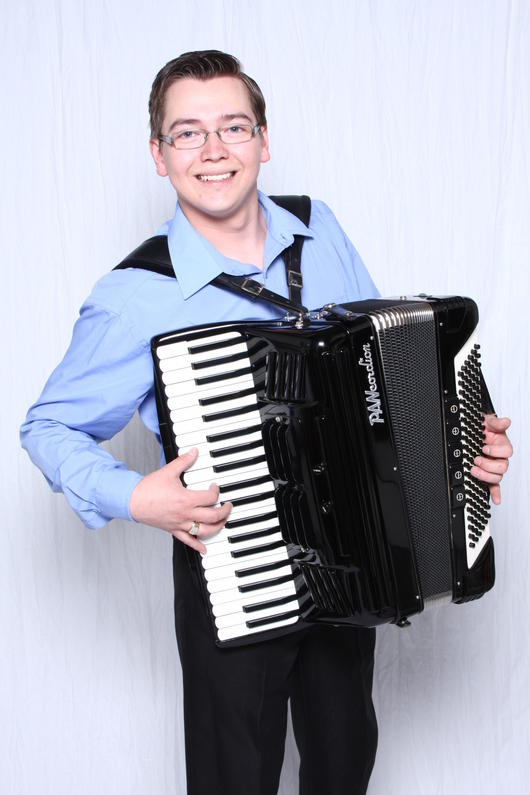 Watch The Jordan Rody Band

"...Jordan takes great pride in his music, and performances..." and can provide great entertainment for any occasion. Jordan's energetic stage show can appeal to a broad audience. With an eclectic range of music from traditional polkas with an energetic flare to "Sweet Home Alabama" to Merle Haggard. The Jordan Rody Band can appeal to any age demographic.

Jordan's passion for music began when he was very young. His biggest musical inspiration and influence has been his grandfather, Mike Kushneryk. Mike has performed with numerous polka bands, including The Happy Roamin' Rangers and The Cotton Pickers, and he is one of the founders of the Grammy-nominated polka band The Western Senators. Mike gave Jordan his first accordion and spent countless hours teaching him. Without the help of his grandfather, none of Jordan's success would have been possible. Jordan's influences also include America's Polka King, Frankie Yankovic; and Canada's Polka King, Walter Ostanek.

Jordan has performed across Canada in British Columbia, Alberta, Saskatchewan, and Ontario. He has won awards at the prestigious Kimberley International Old Time Accordion Championships and numerous other events, performed for capacity crowds at the Leavenworth Oktoberfest in Leavenworth, WA; Norsk Hostfest in Minot, ND; Great Northwest Oktoberfest in Whitefish, MT; Thanksgiving Polka Weekend in Cleveland, Oh. Jordan also performed at the 6th Annual PolkaFest at Casino Regina Show Lounge, and is a "Special Guest" on Season 7 of PolkaRama! with Walter Ostanek and The Western Senators.

Most recently, Jordan released his debut album "Main Squeeze!". Backing Jordan on the album is Saskatchewan's Grammy award nominated polka band, The Western Senators. This album contains many Polka favourites such as "Let's Have a Party", and "Baby Doll Polka". Jordan's album "Main Squeeze!" was nominated for "International Style" Album of the Year and "Song of the Year" for 2018 at the International Polka Association Festival in Buffalo, NY. The awards banquet takes place August 30th - September 1st, 2019.

It doesn't stop there for this young phenom in the polka world, so watch out for him!
---
Check availability for The Jordan Rody Band »
---