Patrick Lamb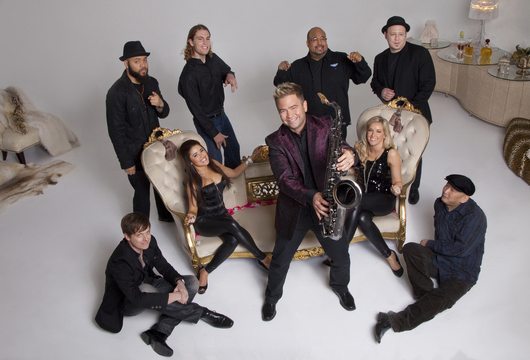 "One of the best instrumentalists I've ever worked with..." -Bobby Caldwell
"Patrick Lamb's playing and singing are simply fabulous!" -Two–Time Grammy Winning Diane Schuur
Patrick is one of those extraordinary performers who combine raw talent, and energy with a singular ability to captivate an audience with his charm, sincerity and pure magnetism. His focus as a songwriter and performing artist is "Old School" R&B, Soul. He combines the influences of Funk, Soul, R&B, and a flavor of Jazz to create his own unique sound as a performer and a songwriter.
Born in Jackson, Mississippi, Patrick began paying his dues by playing roadhouse music as a teenager in the rural south when he heard the evocative sounds of James Brown, Stevie Wonder, Ray Charles, and Wilton Felder, of the Crusaders. He immersed himself in the music of these great artists and began to discover his own sound as both a musician and performer. In the eighties his father, a high school science teacher, took the family to Portland, Oregon. Once there, Patrick's playing and singing were developing into a formidable career, which began at the early age of 16. Although having lived in the NW, Patrick found a way to infuse his southern roots and influences into his development as a musician, songwriter and performer.
Patrick accepted early on in his career, in the 90's, the opportunity to perform and tour with Concord Recording Artist & GRAMMY -winner Diane Schuur. In addition to touring with Ms. Schuur, he recently joined legendary R&B vocalists Bobby Caldwell and Gino Vannelli to tour worldwide. Patrick has been honored with numerous awards starting with an acclaimed best soloist performance at the Lionel Hampton Jazz Festival, resulting in a performance with Lionel Hampton. He has won 3 Muddy awards voted on by the NW music community, and recently was a finalist in the Rockstar Mix It Up contest. In addition, to his music based awards, Patrick's production company was given the Spirit of Portland & the Caring Heart award for his contributions giving back to the community. In 1996 and 1997 Patrick was invited to perform at the White House during the holiday Congressional VIP Tours and was in attendance at "The Peace on Earth Celebration," leading to a meeting with President Clinton. Patrick has been solidly and consistently recognized by his peers and community as a world class talent.
Over the past few years Patrick has been focusing on his own recording career as both a songwriter and performer. He recently completed five studio albums and produced an award winning show "Let The Good Times Roll, A Tribute To Ray Charles." A Tribute To Ray Charles, debuted at the 2005 Safeway Waterfront Blues Festival and the 15 piece big band All-star group released a CD produced by Lamb at the 2006 festival during the tributes encore performance. The tribute has received stellar reviews both regionally and nationally, and the show opened the 2007-08 Oregon Symphony Pops season.
Patrick completed work on his latest solo project, 'Soul Of A Free Man' which was released, in Spring 2007. Patrick's new solo vocal CD bridges together his love of Funk, "Old School" R&B, Soul, Jazz and his southern roots. This CD was co-written with long time friend, singer-songwriter Lee Garrett, whose songwriting credits include 'Sign Sealed Delivered,' 'Isn't She Lovely,' 'I Just Called To Say I Love You' and more!
In addition to these two projects Patrick finished work on a vocal duet and instrumental CD with nine-time Emmy award winning producer John Henry, and three-time Emmy nominated singer songwriter Patsy Meyer. This project was released in late Spring of 2007. Patrick's final release in 2007 was with Michael Allen Harrison titled "At Midnight."
Patrick has appeared on other recordings with Gino Vannelli, Jeff Lorber, Tom Grant, Eddie Martinez, Dave Weckel, Nathan East, Ricky Lawson, 'Little John' Roberts, Alex Al, Bill Cunliffe, Tony Madian, Curt Bisquera, Herman Jackson, Mel Brown, Marlon McClain, Nate Phillips, The Crazy 8's, George Mitchell, Dan Balmer, Paul deLay, John Raymond, Paul Jackson Jr., Tony Gable, and many others.
Patrick also demonstrates a deep sense of community awareness and civic responsibility. He has performed for numerous fund- raisers to raise consciousness about the loss of funding for the arts in public schools. In addition, he has been involved with major civic efforts to raise money for the America Diabetes Association, Oregon Food Bank, the American Cancer Society, Doernbecher Children's Hospital, The Christie School, ALS Association of Oregon and SW Washington. One can't help but be moved by the huge heart of this young man as it comes though in his civic awareness…and in his exuberant energy to entertain and uplift people.
---
Check availability for Patrick Lamb »
---