Twisted Bisquit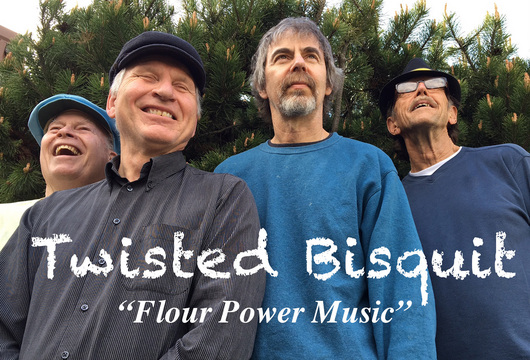 Twisted Bisquit is a professional classic rock band playing hits you'll remember from the Fifities, like Fats Domino's "I'm Ready", to the 60s with the Beatles' "I Saw Her Standing There.", to the 70s with Tom Petty's "Breakdown" or Billy Joel's "You May Be Right". We even do some country tunes by Johnny Cash and Lyle Lovett and some blues rock by Stevie Ray Vaughan and the Allman Brothers Band.
A quartet with guitar, drums, bass and keyboards, we pack a lot of sound and fun into your party with a repertoire chock full of tunes to dance to, including the occasional slow dance like Neil Young's "Harvest Moon" or Sam Cooke's "Send Me". Our three part harmonies and familar tunes will bring joy to your ears! We can also provide our own sound system and let you use it to toast the bride and groom, or some other announcement(s)!
We have performed at a variety of outdoor venues in the Inland Northwest, specializing in outdoor events, private parties, weddings and other private functions. We have performed at Spokane's Annual Pig Out In The Park, Spokane Valley's Annual ValleyFest, and Arbor Crest Winery, just to name a few venues on our live performance resume.
Twisted Bisquit is Michael Robinson on guitar and vocals, Steve Reich on keyboards, Geoff Haworth on bass and vocals and Keith J. Milligan on drums and vocals. We look forward to entertaining you!!!
---
Check availability for Twisted Bisquit »
---