The Musical Art Quintet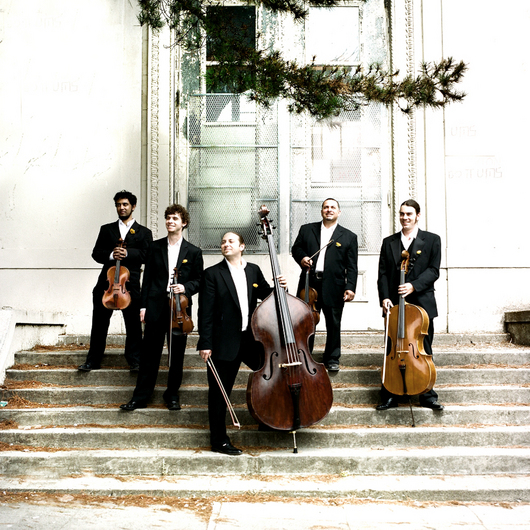 About The Musical Art Quintet

The Musical Art Quintet was formed in 2008 in the Mission district of San Francisco during chamber music jam sessions every Sunday night at Cafe Revolution. Each week a new piece of music was written by MAQ band leader Sascha Jacobsen to be performed at Classical Revolution, and ink still wet, we would read through the piece in front of a live audience. As our repertoire grew, a core group of players emerged and the quintet was founded.
The name of the quintet is taken from The Musical Art Quartet, a string quartet formed in the 1920's and led by the Great-Grandfather and namesake of the bassist and composer of the quintet, Sascha Jacobsen.
Although classically trained, the members of The Musical Art Quintet are skilled improvisors and each one brings with him a special area of expertise. Whether it is Argentine Tango, Afro-Cuban Son, Klezmer, Classical works, or even Electronica, the Quintet is at home. The music of band leader, Sascha Jacobsen, is essentially rhythmic in nature, utilizing dance forms to propel his melodies forward. Each piece is based on a dance form, but instead of a Sarabande or a Gigue, Jacobsen uses rhythms like Cha Cha Cha or Milonga.
Nuevo Chamber is our name for this new genre that blends world music influences with a chamber music ensemble, infusing rhythms from Argentina, Cuba, Africa, Jazz, Classical and even Electronica into our own style of music. The Quintet has cemented it's status as a top world music string ensemble with recent recordings with the Nuevo Flamenco guitarist, Stevan Pasero (Twelve Shades of Night, 2010, Sugo records) and with the Argentine Tango group, Trio Garufa (El Rumor de tus Tangos, 2010, Garufa records).
Songlines Magazine:
"spontaneity shines through on this classy debut album"
SF Bay Guardian:
"composer-bassist Sascha Jacobsen's concoctions hop nimbly through a world of styles while impressing with ear-catching intricacy and handsome technique....indelible tracks like "Milonga de San Francisco" and Afrobeat-inflected "Fela Feliz" are spirited treats that will have you twirling across the floor."
NY Times: "polished performance"
East Bay Express:
"Classical music is sexy again. Lest you doubt that, look no further than Mission District chamber group The Musical Art Quintet"
SF Weekly:
Plenty of local bands are ambitious; San Francisco's Musical Art Quintet is trailblazing its own genre. The group, led by bassist and composer Sascha Jacobsen, grew out of Classical Revolution jams at which Jacobsen would write out a new piece of music for his group to perform on the spot. His pieces seek to combine and remix elements of chamber music with rhythms and sounds from all over the world. A Musical Art Quintet composition might meld influences from Africa, Argentina, or Cuba — and even a drum machine — into a globe-hopping, dance-inspiring, gorgeous work. Classical training and a taste for evocative melodies underpin this sound, but improvisation and lively rhythms make the group's "Nuevo Chamber" music truly its own.
STRAD Magazine:
"...Stylish and Vigorous...beautifully arranged"
World Music Central:
"Nuevo Chamber is a superb fusion of chamber compositions and global sounds by one of the emerging talents in the world music scene."
Mundo Vibes:
"Expect an and invigorating infusion of classical and worldly sounds"
Rootsworld:
"The Musical Art Quintet is by no means a typical classical chamber ensemble"


---
Check availability for The Musical Art Quintet »
---