Steve Eulberg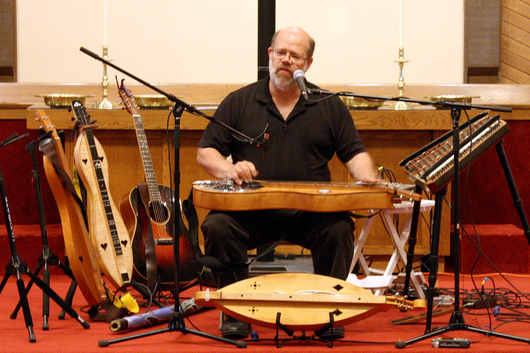 Watch Steve Eulberg
Using shimmering instrumentals and vocals crafted into a James Taylor house, Steve provides smile-inducing, toe-tapping, thought-provoking folkgrass.
"… a superb dulcimer player … and a first rate composer."
-Neal Walters, Dulcimer Players News
He's a versatile full-time folk musician who specializes in fretted and hammered dulcimers, but his first instrument was his mother's ukulele. At a youth retreat the weekend after Jim Croce's plane went down, he became so fired up about the guitar that he grabbed the only thing in the house with strings. His mother wanted her ukulele back so that Christmas, he got a guitar. As a college student, he heard his first dulcimers, but never thought he could afford his own. It wasn't until graduate school when he realized that he wouldn't have to live on peanut butter sandwiches the rest of his life, because the Hughes Dulcimer Company was just down the street. He bought a kit and built his first dulcimer. It's been love ever since - through a career performing folk for kids to seniors, as a composer, and as an inner-city pastor, this award-winning touring musician brings joy to all who hear him.
He's been called an Appalachian Jimmy Buffet because of his personable stage presence and warm voice, but Buffet doesn't have Steve's on-the-money musicianship on dulcimers and more. Whether he's tapping out a joyful traditional tune like "St. Anne's Reel," or an original like "Blacktail Weasel and the Groundsquirrel Clan," he's showcased the versatility of these instruments in a variety of venues, from a featured spot at the Walnut Valley Festival (Winfield, KS), to the Cheyenne Celtic Festival (Cheyenne, WY).
[He's also played in many liturgical settings, including the John F. Kennedy School (Berlin, Germany) and St. Annen Kirche, the church which Rev. Martin Niemöller served), and as a featured artist at the Christian Church-Disciples of Christ Washington State Convention. In 2012 alone, he did 183 performances.]
He has produced 15 recordings; the newest, Old School Old Time, was released in December 2012 and recorded with third-generation fiddler Vi Wickham. Calling themselves Fiddle Whamdiddle (the latter is slang for hammered dulcimer), this 15 song collection of old-time folk includes tunes they "can't remember not knowing." Steve offers his considerable hammered dulcimer talents on "Fisher's Hornpipe," and "Golden Slippers," the latter a song that Steve jokes is the hammered dulcimer's national anthem. He plays a mountain dulcimer on "Barlow Knife" and "Boil 'em Cabbage Down," a standard with dulcimer players and one of the first songs he ever learned. Other songs feature both fretted and hammered dulcimers. It all makes for a knee-slapping good time.
Other releases include A Piece of it All (2007), I Celebrate Life (2005), Random Acts of Fiddling (2005, with Carole and Teresa Lundgren), and many more, including contemporary and traditional folk, some for general audiences and some, done in the folk tradition and performed in and outside of religious settings.
Steve has a musical soul influenced by many, including Tchaikovsky, Jean Ritchie, and Stevie Wonder. He's shared the stage with folk artists John McCutcheon, Bryan Bowers, Maggie Sansone, Emma's Revolution, and Mundy Turner. Steve is a five-time National Winner in Mountain Dulcimer and a three-time National Finalist for Hammered Dulcimer, in addition to other honors.
His music has appeared on National Public Radio and on United Airlines Inflight Audio; his "Soaring" was licensed by PBS' RoadTrip Nation. Several songs have charted on The Music Review, including "War Is Sweet," which topped the Independent Country chart in September 2007. In the Roots Music Report for November and January 2013, he had 3 albums in the Top 50.
He also plays guitar, bass, piano and hand percussion. His mother is lucky that his musical curiosity led him to many wonderful places. Otherwise, she never would've gotten that ukulele back.
---
Check availability for Steve Eulberg »
---