Violectric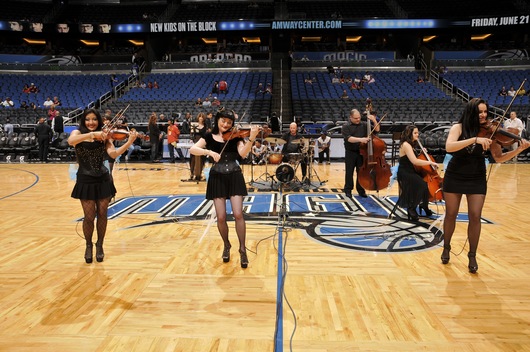 Violectric is a unique fusion of the passion and beauty of classical string instruments with the excitement of cutting-edge modern technology and effects. Using custom arrangements tailored to sound unlike any other, they will take you on a musical revolution that is guaranteed to change the way you look at everything they play.
Violectric is a 7 piece band that plays everything LIVE (no tracks). We perform custom arrangements of classic and modern rock tunes from The Beatles to The Rolling Stones, Pink Floyd to Led Zeppelin, and everything in between. All music is memorized, and all musicians are members of the AFM. Instruments include: 2 violins, viola, cello, upright string bass, keyboards, drum kit. Violectric's proprietary charts cannot be heard anywhere else.
Formed in 2010 by Michelle Jones, Violectric has performed internationally as a featured act, convention entertainment and also provides music education programs throughout the U.S and Asia. Recently, Violectric was selected to be the opening act for concerts with musical celebrities, including Huey Lewis and the News, Sting, Adam Levine, Ne-Yo and David Foster.
The musicians of Violectric perform and record regularly on violin, viola, cello, 5-string violin, vocals, keyboards and percussion with many ensembles, including Fernando Varela and Forte (from "America's Got Talent"), and the international touring group Classic Albums Live based in Toronto, Ontario. Violectric's Founder and Lead Violinist Michelle Jones has toured and performed with Page and Plant (Led Zeppelin), Sarah Brightman, Josh Groban, Andrea Bocelli, Bernadette Peters, Manhattan Transfer, Trans-Siberian Orchestra, Mannheim Steamroller, Michael McDonald, Anne Murray, Chicago, Styx, Joshua Bell, Itzhak Perlman, Frank Sinatra, Jr., Michael Bolton, Brian Wilson and Pet Sounds (Beach Boys), Frankie Valli and the Four Seasons, Beyonce and Destiny's Child, and many others. With many years of musical experience, Michelle is an accomplished violinist and violist that has performed with numerous symphony orchestras in the United States. Michelle is a featured soloist and concertmaster with the Florida Pops Orchestra located Central Florida. She is also currently Assistant Principal Violin for the world-renowned Mantovani Orchestra and Section Violin with the Walt Disney World Orchestra, and is a solo violinist and ensemble leader for Disney's Fairytale Weddings and Honeymoons.

The members of Violectric have been performing in various groups and orchestras for over 20 years. Violectric is the culmination of their experience and creative desire to form a unique experience that showcases their talents. The group is rounded out by exceptional performers, hand-picked for their individual skills and contributions to the group.
Violectric is committed to music education. Educational programs are available including master classes and performances combining Violectric with student string groups. We have performed educational programs in both the United States and Asia. Collectively, Violectric's musicians have accumulated thousands of community service hours in the last year through their involvement with many organizations and schools including: A Gift for Music, Give Kids the World, BETA Center Orlando, Orange County Public Schools, Osceola County School for the Arts, and Full Sail University. President Barack Obama awarded Band Leader Michelle Jones the President's Volunteer Service Award in 2013 for her dedication and commitment to community service and education.
Violectric, Inc. is incorporated in Florida. The board of directors manage the creative and business direction of Violectric. "Violectric" and the logo are trademarks of Violectric, Inc. and all rights are reserved.
---
Check availability for Violectric »
---