The Dalton Gang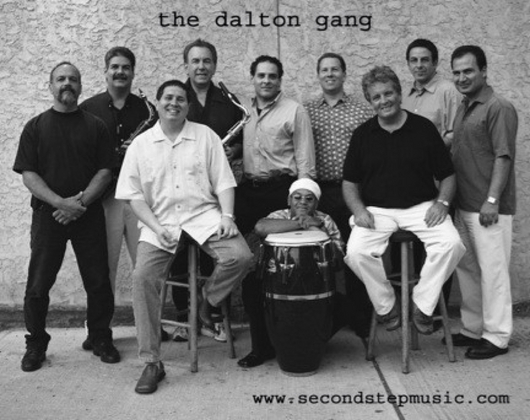 The Dalton Gang is a ten piece band led by guitarist, arranger and composer Willy Dalton. The band mixes jazz with a blend of funk and latin music.
The members are freelance musicians around the New York area. Among their credits are recordings and performances with such artists as Buddy Rich, Machito, Lionel Hampton, Tito Puente, Daniel Ponce, Cissy Houston, and others.
The Dalton Gang is a real "group", not a band of musicians brought together for a special project. They performed for the first time in 1979 .
The band members are: Vinnie Cutro-- trumpet, Mark Friedman--alto sax and flute, Frank Elmo--tenor sax and flute, Dan Nigro-- baritone sax, Conrad Zulauf-- trombone, Frank Valdes--percussion, Mike DiLorenzo--piano, John Hughes--bass, Vince Cherico--drums, and Willy Dalton--guitar.
"The Dalton Gang is really a labor of love," says bandleader Willy Dalton. "The dedication and commitment of the musicians is what keeps the band alive. When I write for the band, I try to draw on the mix of sounds that we play as working musicians in the New York area--jazz, funk, latin, big band, etc. Putting this all in one package and making the music challenging to play is what I'm aiming for."
The Dalton Gang has released four CD's on Second Step Music. Rhythms was released in 1993, Miami Shadows in 1995, Just For Tonight was released in 2002 (reaching #37 on the National Jazz Charts) , and Last Year's Waltz was released in 2006.
Dalton Gang by Zan Stewart, Star-Ledger Staff Tuesday November 20, 2007
"Willy Dalton, New Jersey's jazz-meets-blues-meets-pop-and-funk guitarist, arranger and composer, knows how to make music fun while maintaining artistic vigor. His 10-piece Dalton Gang -- which usually includes such aces as trumpeter Vinnie Cutro, tenorman Frank Elmo, alto saxophonist Mark Friedman and drummer Vince Cherico -- demonstrates his prowess. The band lays into anything from a mambo-esque version of "New York State of Mind" to his own slow and funky "Last Year's Waltz" to Monk's bubbling "Bye-Ya" with zest and musicality.
---
Check availability for The Dalton Gang »
---