La Cigale Early Music Ensemble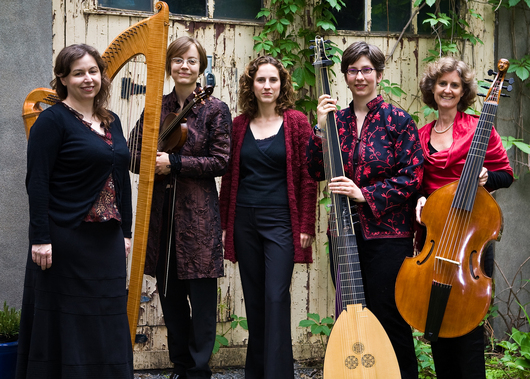 The cicada develops slowly, secretly, over a period of years before presenting itself in style with a song which everyone can hear and appreciate. In the well-known fable, the ants belittled the cicada for doing nothing but share its music. Perhaps they forgot how the cicada's song lightened their labour and allowed them to dream, to rejoice, to love and also to weep...
Formed in 2006 in Montréal, the early music ensemble, La Cigale takes its name from this most musical insect and hopes in turn to share its music with anyone who would like to listen.
La Cigale is composed of a varying number of musicians and specializes in music of the Renaissance and Baroque eras on period instruments. The group creates programmes that juxtapose formal and traditional styles, combine seriousness and rigour with a sense of playfulness, explore the links between literature and music, and bring to light little known masterpieces. The musicians of La Cigale have been praised for the warmth of their performances and for the complicity they share with each other and their audiences.
The ensemble is often featured in concert series and festivals and pursues a wide variety of musical activities. Ensemble La Cigale has performed in the Montréal Baroque festival, outdoors on Rigaud Mountain (International Walking Day), at an exhibition opening at the Canadian Museum of Civilizations in Gatineau and for festivities at the Montréal Botanical Gardens. Musicians from the group have also had the pleasure of introducing music lovers to baroque music (La Grande Bibliothèque du Québec, in a concert-conference) and have performed for conferences of the Cercle interuniversitaire d'étude sur la République des Lettres (CIERL, Université Laval) devoted to interdisciplinary research bringing together literature, iconography and music. As well, La Cigale has collaborated for several seasons with the Projet Choral choir (an ensemble associated with the Caisses Populaires Desjardins).



---
Check availability for La Cigale Early Music Ensemble »
---