Duo Cieli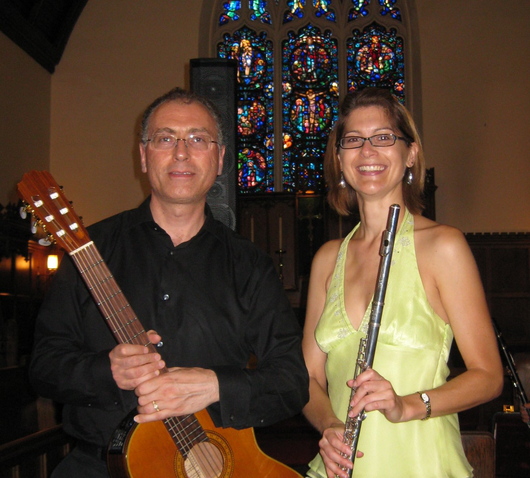 Duo Cieli brings beauty and class to every event. Their repertoire spans five centuries and includes music by traditional and contemporary composers as well as folk, jazz and popular arrangements. They perform frequently for audiences of all ages at museums, schools, historical societies, clubs, festivals, concert series and private engagements from weddings to corporate events.
Guitarist, composer, banjoist John Marcinizyn performs frequently as a soloist, with flutist Tara Yaney, the Ferla-Marcinizyn Guitar Duo, contralto Daphne Alderson, and groups ranging from The Bach Choir of Pittsburgh to his jazz trio Acoustic Swing. His versatility as an acoustic and electric guitarist allows him to perform in many styles including classical, jazz, rock, blues, and folk. John has also performed guitar and banjo for many theater companies including Quantum Theater, where he wrote and performed a flamenco score for The Red Shoes and a Blues score for El Paso Blue. His playing can be heard on six CDs and one DVD.
John's original music compositions have received numerous performances and include a guitar concerto, string quartet, orchestral music, music for theater, and pieces for solo guitar and guitar with mixed ensemble, as well as a number of jazz and rock pieces. His Sonata for Guitar and Marimba received critical acclaim following its premiere at the Guitar Foundation of America International Festival and Competition held in Buffalo. The Westmoreland Symphonic Winds commissioned Song for the Sparrows, in memory of Beth Ann Johnson and Elyse Jeanne Saraceni who were killed in the 1988 terrorist bombing of Pan Am flight 103. This past December, IonSound Project premiered his All Manner of Things Shall Be Well, for Contralto, Cello and Piano, based upon the writings of Julian of Norwich. In December and January, he toured in South America and the Eastern Caribbean with contralto, Daphne Alderson in programs that varied from chamber music through cabaret.
John holds a Ph. D. in music composition and theory from the University of Pittsburgh, and teaches guitar at Carnegie Mellon University and guitar and composition at Seton Hill University. He is also on the faculty of the Duquesne University Guitar and Bass Summer Workshop where he performs and teaches a workshop on slide guitar techniques.
Flutist Tara Yaney is the principal piccolo player of the Johnstown and Westmoreland Symphony Orchestras. She has also performed on with the Youngstown Symphony Orchestra, the Canton Symphony Orchestra, the Altoona Symphony Orchestra, Quantum Theatre, the Bach Choir of Pittsburgh, the Microscopic Opera Company, the International Chamber Ensemble in Rome, Italy, the Ohio Light Opera Orchestra, and numerous pit orchestras in the Philadelphia, Washington, DC, Baltimore and Pittsburgh areas. She performs regularly on flute, piccolo, Native American flute and clarinet as a soloist, and in chamber music with guitarist John Marcinizyn, and with Cincopation, a Pittsburgh based woodwind quintet.
Tara earned her Bachelors degree in physics from the University of Pennsylvania, and then went on to earn her Bachelors degree in music from the Peabody Conservatory of Music of the Johns Hopkins University, where she studied with Robert Willoughby. She teaches the flute and clarinet at the Pittsburgh Music Academy and Musik Innovations School of Music.
---
Check availability for Duo Cieli »
---