Paris Rendez-Vous by Eric John Kaiser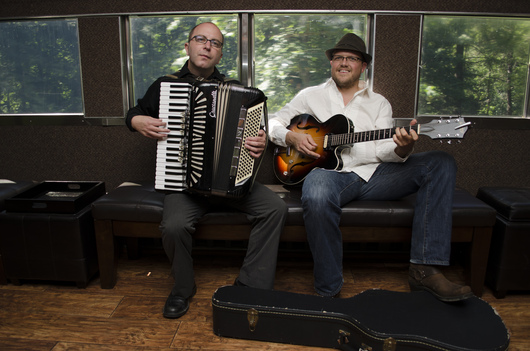 Watch Paris Rendez-Vous by Eric John Kaiser

Save money on airfare and have a piece of France come to you...
Chanson Française. Literally, French Song. Perhaps the Frenchest of songs. The sound that instantly evokes smokey Paris cafes, romance, sentimentality and even more than that - Chanson Française is the beating heart of the French people, the social fabric woven into generations since the French Revolution. Liberté, égalité, fraternité - and a glass of wine to go with them. Lyrical stories of social justice, spirituality and love - "Non, Je Ne Regrette Rien," "Ne Me Quitte Pas," or "Les Feuilles Mortes" as sung by Edith Piaf, Charles Trenet, Yves Montand and Jacques Brel.
Singer-songwriter Eric John Kaiser, billed as "Portland's French Troubadour," keeps the tradition alive in the Pacific Northwest. He arrived to the creativity-soaked environs of Portland, Oregon (in pursuit of a girl, of course) from his native France six years ago with more than 350 performances to his credit.
Since 2006, when French native, Eric John Kaiser, has moved from Paris to Portland (Oregon) he has logged every year close to 10,000 miles via air, land and sea. Exploring North America on multiple lengthy tours, he has gigged his way up through Canada and down through the South, as far as New Orleans and Washington D.C., where he performed as an "Artist in Residence" for the Smithsonian Museum. Sometimes driving his trusty Subaru under the wide Montana sky, sometimes riding the subway under the New York City canyons... Then jetting across the Atlantic to tour through France...
---
Check availability for Paris Rendez-Vous by Eric John Kaiser »
---