Alexandria Davis, Highland Bagpiper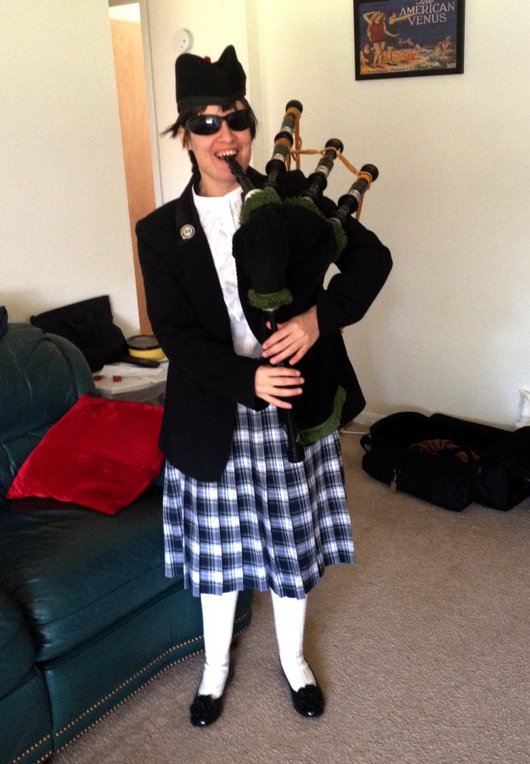 Alexandria is an experienced, talented musician located in the Manchester, New Hampshire area serving Southern New Hampshire and also performs for special events throughout the country.
She is a Highland Bagpiper and traditional bugler. She is unique because she is one of a very small number of totally visually impaired Highland Bagpipers throughout the world. She is a member of theAmerican Federation of Musicians Local 349 so you can be assured you will be hiring a quality, professional performer for your event.
She can also put you in touch with other musicians in the AFM from trumpet players to string quartets and any other type of live music you may need.
Alexandria provides discounts to military, fire, police, and emergency service members and will never turn away any service member or his or her family due to not being able to pay.
Alexandria donates ten percent of performance proceeds directly to the Wounded Warrior Project to help injured service members and their families when she performs for military, fire service, and police events.
All other events, Alexandria donates ten percent of performance proceeds to Lindsey's Place, a youth organization for young people with special needs. She chose this organization because she attends as a camper and it is such an amazing, inspiring place.
Alexandria is committed to helping animals and the environment. No animal products are used in the instruments, clotheing, or other equipment with which she performs, and all worn or broken instrument parts are recycled.
Alexandria is a Celtic bagpiper residing in Southern New Hampshire. She has experience in both solo and band settings throughout North Dakota, Minnesota, and Georgia and New Hampshire. When she is not performing, she attends the National Labor College.
She began playing music at age eleven as a percussionist in her school band. She studied percussion throughout her school career and made District Honor Band as principal timpanist for one year, and All State Semifinalist for one year. She toured with her first drum and bugle corps at seventeen, and toured with various drum and bugle corps both Canadian and American for four seasons as principal timpanist. She began learning trumpet in her second year of bugle corps in Sudbury, Ontario, Canada. She went on from her bugle corps tour to perform as a bugler for the West Fargo, North Dakota VFW Honor Guard for two years in 2007 and 2008 as their bugler. She also performed with the Oskloosa, Iowa honor guard and has filled in with various other honor guards throughout her career.
Alexandria began learning the bagpipes at eighteen when her host family took her to an Irish festival in Sudbury Ontario. She loved the sound of the bagpipes, and she was so inspired to learn. She is totally visually impaired, so she found that she could memorize the music very well, and her ear is great for tuning.
When Alexandria is not playing music, she is serving her community as a volunteer in the labor movement. She was a delegate in the Savannah Central Labor Council from July 2012 to March 2013. She moved to New Hampshire to be closer to family and volunteers actively in the New Hampshire AFL-CIO.
Alexandria is available for weddings, parties, golf turnaments, to honor your loved one, or for any other engagement you might have in mind. She performs such tunes as Scotland the Brave, Amazing Grace, Mary's Wedding, Flower of Scotland, Maid I Adore, Skyboat Song, or any other tunes you request. No request is too difficult. Alexandria will travel 50 miles from Manchester and further for special events and has performed in Hiltonhead, Savannah, and surrounding areas in GA as well as Philadelphia, PA.
Please call for rates and any questions you might have.
---
Check availability for Alexandria Davis, Highland Bagpiper »
---