NOVO Ensemble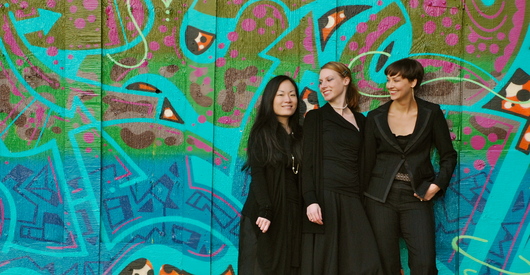 NOVO is a flute, cello and piano ensemble dedicated to the promotion of contemporary music in Vancouver and the lower mainland.
We perform new chamber works from around the world, with a special emphasis on Canadian music. As a creative way of introducing contemporary works, our concert programs combine discussion and performance of new works with the classical repertoire. By favouring the use of small venues, we share music with our audience in a more intimate and relaxed concert atmosphere.
Jee Yeon Ryu received her Bachelor of Music degree in Piano Performance from the University of Western Ontario, studying with John Paul Bracey and Master of Music degree in Piano Performance from the University of Victoria, studying with Arthur Rowe. During her graduate studies in Victoria, Jee Yeon began exploring her interest in contemporary music, and has performed new works with the Aventa Ensemble, Vancouver New Music and Victoria Symphony Orchestra. Her performances also include creative projects with the Open Space, VSO New Music Festival, and Performance Art Festival with the Art Gallery of Greater Victoria. Since moving to Vancouver, Jee Yeon has been teaching at the Mozart School of Music and the Jean Lyons School of Music. As a pianist, she continues to enjoy collaborating new creative contemporary music programs, as well as performing in her Piano Café lecture-recital series.
Laura Vanek began studying flute in Toronto with Dianne Aitken and Douglas Stewart. She continued her studies in Paris with Philippe Pierlot, Vincent Lucas and Alain Marion and later at the Royal Northern College of Music under Peter Lloyd. In 2009 she completed her masters in music performance at the University of Victoria. Laura has won numerous competitions including the Concours Européen de Musique, the Prix de la Ville de Paris and the Mary Gardiner Award for Contemporary Music. She has held positions with l'Orchestre Hector Berlioz and l'Orchestre de l'Opèra Comique and has appeared with the Esprit Orchestra. Since moving to the west coast she performs regularly as a soloist, chamber and orchestral musician and has appeared with a wide variety of ensembles including The Vancouver Metropolitan Orchestra, The Surrey Children's Choir, The Vancouver Island Symphony, The Victoria Symphony and The Pacific Opera. Since her professional debut, Laura has been actively involved in teaching music. She has taught flute and coached chamber music at the University of Victoria and is a frequent guest instructor of flute clinics and masterclasses in greater Vancouver schools.
Marina Hasselberg completed her Master's at the University of Western Ontario in 2010, studying with the renowned Canadian cellist and pedagogue Dr. Thomas Wiebe. She was awarded a distinction for her final recital. Ms. Hasselberg has recently moved to Vancouver, where she plays chamber music and is regularly involved in new artistic projects. In addition to her performing career, Marina runs her own cello studio and teaches at Mozart School of Music. Before coming to Canada, she studied with Catherine Strynckx and Miguel Rocha for her Bachelor's degree at the University of Castelo Branco (Portugal). In 2008, she began studying baroque music, an interest which she continues to explore and pursue. Marina has taught in several music academies and conservatories in Canada and Portugal. She performs regularly as a duo with piano, harpsichord and organ. She has also been working as a studio musician and frequently appears as a substitute cellist with Canadian orchestras. Marina plays on a beautiful Italian cello from 1860.
---
Check availability for NOVO Ensemble »
---