New Orleans Helsinki Connection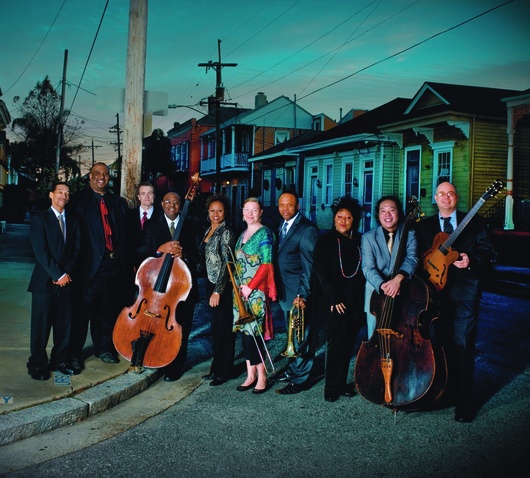 Watch New Orleans Helsinki Connection

" -- New Orleans Helsinki Connection, a diverse musical troupe which adds a stylish, modern touch to the well seasoned sounds of New Orleans -- " Aaron Lafont
" -- Listening to the New Orleans Helsinki Connection's new CD Paradise On Earth brought me to a place or space that can undeniably be defined as paradise, even if only for an hour and some change. – " Joseph Daniel
New Orleans Helsinki Connection is a group of New Orleans and Helsinki based (initially, now entirely New Orleans based!) musicians that play traditional New Orleans jazz with a youthful 21st century touch. Its members represent the very best of this style in their homelands and have been playing together in various bands for years. In the summer of 2002, a long time dream of a joint band finally became reality. The band had a successful three-week tour in Finland. In the fall of 2003, New Orleans Helsinki Connection headed in to the studio, and the new, aptly titled CD 'At Last' came out in April 2004. Since then, the NOHC has been often heard on the WWOZ jazz station (also live from Satchmo Fest 2008) and the CD is available again after being out of print for some time.
In August 2004, the NOHC performed very successfully at Sildajazz Festival in Haugesund, Norway, at Lahden Jazztori Festival in Lahti, Finland and at Storyville Jazz Club in Helsinki, Finland. Fall 2008 saw the NOHC performing extensively in Brazil (São Paulo, Brasília, Belo Horizonte, Rio de Janeiro, Aracaju, and Recife). In New Orleans, the band has been seen for example at the French Quarter Festival (2005-2012), Satchmo Fest (2008), Gentilly Fest (2008), New Orleans Jazz & Heritage Festival (2009), Columns Hotel, National Historical Park, Donna's Bar & Grill, Café Istanbul and at Snug Harbor.
New Orleans Helsinki Connection's latest recording 'Paradise On Earth' was released in May 2012 and is, according to music journalist Joseph Daniel, "once again ferrying jazz lovers to a better understanding of musical intimacy."
---
Check availability for New Orleans Helsinki Connection »
---