Danny Green Trio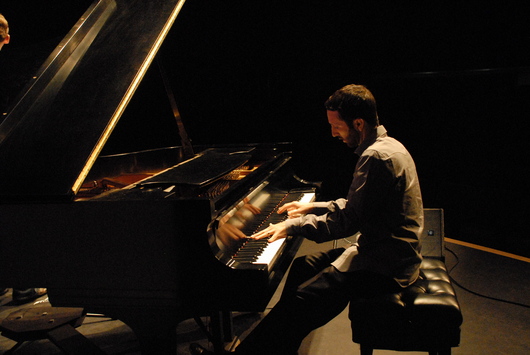 San Diego has launched some amazing jazz artists and Danny Green, a native of Southern California, is swiftly following in their footsteps. At thirty years old he has managed to carve out a place for himself in the lineup of young jazz artists who seem to have a pulse on keeping the tradition of jazz piano alive while stepping boldly into the future through the use of cultural sounds and world music rhythms. Green doesn't waste any time revealing himself on his solo debut CD, With You In Mind. One of the next generations of pianists that offer the kind of depth and passion for music that will quench a jazz lovers thirst, Green serves it up with intense flavor and sometimes an unexpected kick. The album received extensive airplay around the globe rising to #18 on the National Jazz Radio Charts, and won "Best Jazz Album" at the 2009 San Diego Music Awards. Green began working on With You In Mind in November 2007 after producing the Afro-Cuban Jazz inspired album, Past Due (which featured trumpet, bass, drums, percussion and a very young Danny Green).
Green is currently producing his third album, A Thousand Ways Home, which will feature thirteen of his latest compositions. He is joined by his regular band mates Justin Grinnell, Julien Cantelm, and Tripp Sprague, along with special guest artists Eva Scow, Peter Sprague, Dusty Brough, Claudia Villela and world renowned Brazilian guitarist Chico Pinheiro. In addition to his work as a performer/recording artist, Green has been actively involved in music education since 2001. He currently teaches piano classes at Grossmont College, and Canyon Crest Academy.
The Danny Green Trio has performed for numerous events in Southern California including corporate events, private parties, weddings, festivals and concert series and would love to be a part of your event.
---
Check availability for Danny Green Trio »
---