Minstrel Streams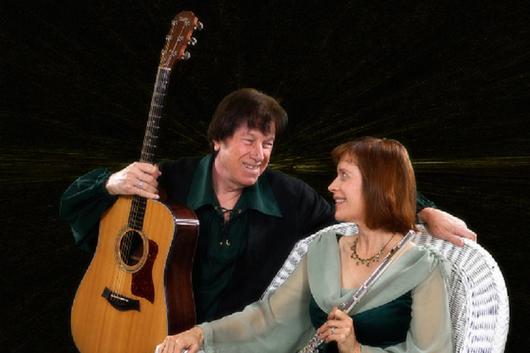 Matt and Rebecca Stuart are not only married, but they have married their talents. Their original compositions are a blend of classical, folk, and world music. Matt and Rebecca's style has been described as spiritual, lyrical, mystical and passionate. Their music touches the hearts and souls of their listeners. According to Ventura Breeze, "Matt and Rebecca create a heart touching and engaging atmosphere through the passion in their music" (December 2010). Minstrel Streams' mission is to promote peace, love, joy, healing, and mercy through their music.
Matt began playing the piano at the age of four. As a young child, he studied piano at the Northwestern University Conservatory of Music in his native Chicago – concentrating on the works of the classical masters. He displayed a passion for music immediately. His parents were fans of the cinema – taking him and his younger brother to movies every weekend. He was intrigued by the musical scores of the films and immediately upon returning home would sit down at the piano and play the movie themes. As a child, Matt was particularly inspired by Miklos Rozsa's score to the film "Ben Hur" – seeing the film initially three times "just to hear the music." While in high school, Matt became interested in folk guitar – his other musical passion.
Through the years, Matt continued his music studies with a series of private teachers – studying classical and popular music. He is a graduate of UCLA where he studied music theory, piano, film scoring, and ethnomusicology- music indigenous to cultures around the world. While at UCLA, he appeared in the movie "Hello Dolly" and was a winner with his musical group on television's "Your All-American College Show" – the "American Idol" and "Star Search" of its' day. He also appeared on the "Academy Awards" show with the UCLA band performing a nominated song of the year. Matt has recorded two solo piano CD's titled, "Dawn of a New Day" and "Cradle of the Moon."
Rebecca began to play the flute when she was in 4th grade. She took lessons from Barbara Lehr of the Ventura County Symphony Orchestra, and later from Bertie Atkinson, the principal flutist of both the Santa Barbara and Ventura Symphony Orchestras. Rebecca won awards for her playing while in high school, having played in both the band and orchestra. Years later, she played at her church and with different bands. Some of the people she has accompanied are Robert Sterns of Eagles Wings Ministries, Chuck Gerrard, Solveig Henderson and Chris Keith. Rebecca also played the flute as co-worship leader of the Porterville, California chapter of Aglow International. She has played at retreats, churches, weddings, and wedding receptions. She has a solo CD titled, "Heaven's Winds, Healing Waters".
Matt and Rebecca's passion for music and collaborations continue to grow. Their CD's are "On Earth As It Is In Heaven" and "Minstrel Streams", which were a labor of love. They recently released their third CD "Winterpeace." They are members of AFM Local 47, Hollywood, CA, BMI, and the Recording Academy.
---
Check availability for Minstrel Streams »
---