Bob Allen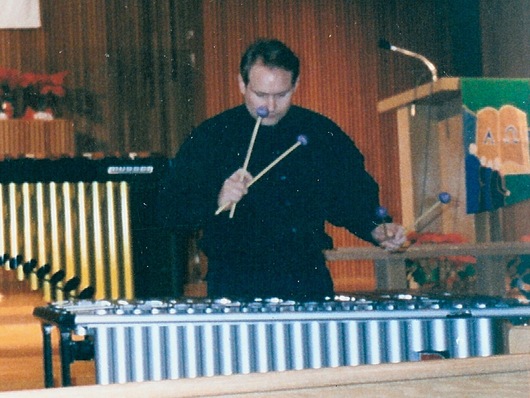 Bob Allen is a classic entertainer. Bob has been performing on stage since he was 7 years old. He has performed with Maynard Ferguson, "Scatman" Crothers, Don Rickles, Joan Rivers, Danny & The Juniors, and many more.
Audiences will be dazzled by Bob's performances of Bumble Boogie, Malaguena, and Classical Gas, along with jazz and Latin favorites on the marimba and vibes. Over the past decade, he has released 4 CDs of his own original works and unique arrangements. As a performing artist with Ludwig Drum Company from 1992-2004, Bob ignited audiences in New York, Las Vegas, Reno, Lake Tahoe and venues across the country.
Bob Allen's current recordings include:
Reverence - for marimba and orchestra - is an eclectic collection of sacred works exhibiting salsa, jazz and contemporary styles intertwined with more traditional orchestrations.
Spanish Romance - a double CD of original works for marimba, vibraphone, and orchestra. The rich and vibrant sound of the marimba amplifies the charm of traditional Spanish music.
My Brother Made Me Do It - a culmination of many interesting years performing with my brother Dave, featuring pieces by Gershwin, Rachmaninoff, Bach and Maslanka.
---
Check availability for Bob Allen »
---