Chicago Q Ensemble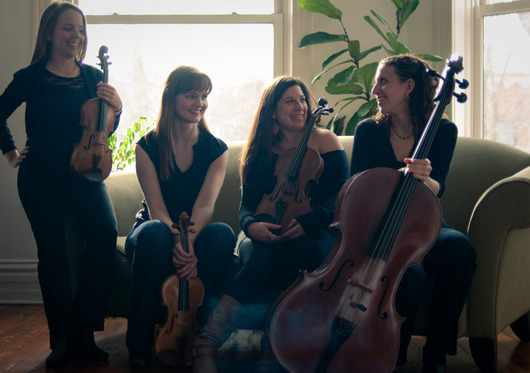 Praised by Chicago Classical Review for finding "both raw energy and serene quiet," Chicago Q Ensemble has been heard in concert throughout Chicago, including recitals at the Green Mill, Chopin Theater, Northwestern University, DePaul University, Ganz Hall, Uncommon Ground Devon, the Ravenswood Concert Series, and the Music Institute of Chicago.
In addition to performing great classical works, the quartet is committed to interdisciplinary collaboration and the work of living composers. They have premiered works by Brian Baxter, Eric Malmquist, Matthew Pakulski, Amy Wurtz, and award-winning jazz arranger Joe Clark. In 2011, they teamed up with composer and video artist Patrick Liddell (aka Ontologist) to create a multimedia concert piece. In 2012, they will commission jazz composer, arranger and clarinetist James Falzone. They recently completed a residency at the Poetry Foundation which included six sold-out performances of Fjords, a major collaboration with shadow puppet company Manual Cinema, composer Kyle Vegter, and poet Zachary Schomburg.
The quartet was the 2011 fellowship ensemble at the Worcester Chamber Music Society summer festival, where their activities included a recital, educational workshop, pre-concert lecture, and a performance of the Mendelssohn Octet with Boston-based string quartet QX. In the summer of 2012, they will make their debut at the Gesher Festival in St. Louis, performing works of Shostakovich and Golijov.
In April 2012, TimeOut Chicago praised their debut recording, Amy Wurtz String Quartets, writing: "We're enticed … [the album] will draw in newcomers to the genre." Their recording of Kyle Vegter's Fjords was recently released with Zachary Schomburg's book of poems, Fjords vol. 1.
---
Check availability for Chicago Q Ensemble »
---