The Schotts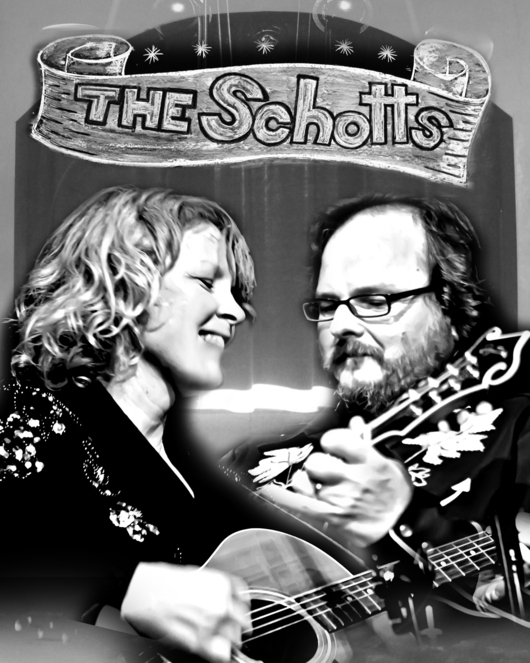 After 25 years of making beautiful music together, The Schott's have recently released their eponymous debut CD, recorded "live off the floor" to capture the freshness and energy of their live show. In reaction to some of the original songs on the recording, a fan summed it up best:

".. "Bluejay" made me smile, "Here & Gone" made me cry, "Understood" made me feel strong, "This Old Coat" made me think, "Because You Love Me" made me remember... I guess you could say that I love your CD!
- Tracy Graham, Langton, ON

Darrin and Alison are a picking, singing and song writing duo from South Western Ontario who bring beautiful harmonies and world-class musicianship to their unique blend of country, bluegrass and folk music. They've honed their chops playing in clubs and festivals across Canada and Europe, including a memorable appearance in Nashville on the legendary "Midnight Jamboree".

Darrin began his professional career playing fiddle and mandolin for The Good Brothers when he was just 17 years old. One of Canada's top multi-instrumentalists, he has gone on to play or record with artists such as The Ennis Sisters, The Dixie Flyers, Susan Aglukark, Shane Cook, and Stompin' Tom Connors, lending his talents on fiddle, mandolin, guitar, and anything else that has strings. Alison's solid guitar work provides the perfect backdrop for her husband's instrumental talents.
When interpreting songs by Emmylou Harris or Gillian Welch, or singing self-penned originals, her clear, soulful voice never fails to transport the listener to whatever time and place the song is leading. You'll be glad you came along.
---
Check availability for The Schotts »
---