Brent Rogers and KJ Miller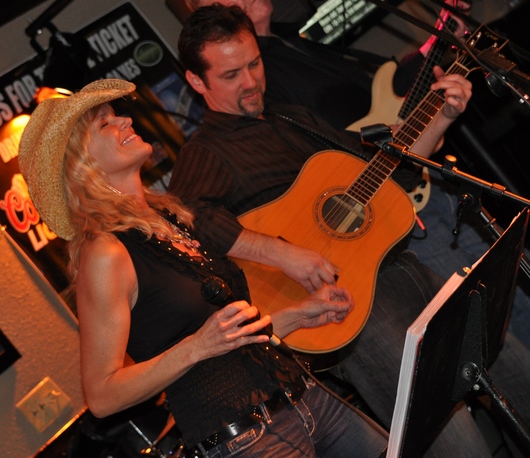 "How Our Story Began..."
Music was a path that both Brent and KJ knew they would follow. Brent, a firefighter in Texas and KJ, an artist in Washington were worlds apart but pursuing the same dream. By chance, their paths collided in 2009 at a songwriting expo and their artistry ignited together on stage.
"A Little Bit of Our Background..."
Brent's diverse musical background includes producing, audio engineering, composing, songwriting, singing and excelling as a multi-instrumentalist. From Texas to Oregon his clients have ranged from Lonnie Turner (Steve Miller Band), and Lupe Fiasco, to Christian Kane (TNT series "Leverage") and hundreds of local artists. After releasing four original CDs of his own, he is now composing music for the Broadway style musical comedy "Oil Change," and is working for Rex Studios.
KJ has a few highlights as well. She has opened for many acts in NY including Chubby Checker, Bobby Vee, Mitch Rider, Spencer Davis and The Rascals. In Nashville she has recorded with David Frizzel on his album, "My Life Is Just A Bridge." She was featured in Brooks and Dunn's music video of their hit song "Rock My World," and on the TV series "Dream Girl USA." She has performed in Europe as well as for the King of Malaysia in Kuala Lumpur.
In addition to their own band, "Brent Rogers and KJ Miller"( which ranges from a duo to a six piece), they are also both members in the all original Americana country band "Wayne Richards and Southern Nights.
"Why People Love Us..."
Since Brent Rogers and KJ Miller can range from a duo to a six-piece band, they have the versatility to play at many different types of venues. They deliver a blend of classic pop, rock, blues and country hits mixed with their own original songs. Their soulful lead vocals and magical harmonies combined with their obvious friendship captivates their audiences and brings their music to life!
---
Check availability for Brent Rogers and KJ Miller »
---