Stephanie Bennett (harpist)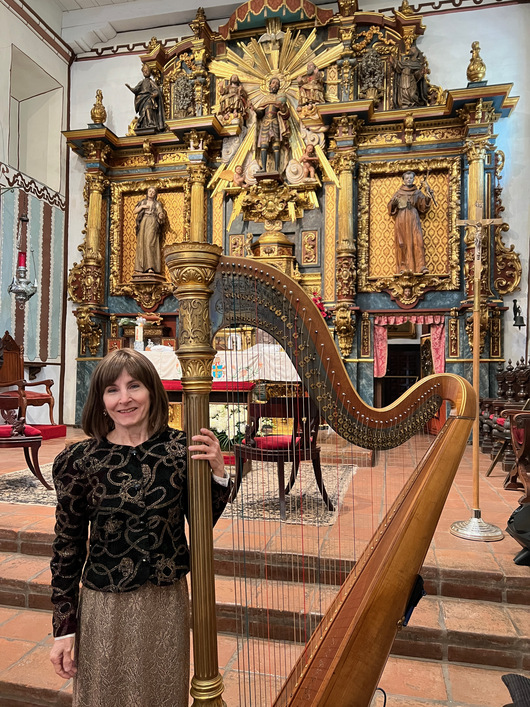 Watch Stephanie Bennett (harpist)

One of our country's top harpists" -The Hollywood Reporter

Stephanie Bennett has performed in the United States, Japan, Australia, Brazil, Argentina, Chile, Ecuador, Guatemala, Costa Rica, Uruguay, Panama, France and Switzerland, including solo harp performances of her own compositions at the Montreux Jazz Festival (Switzerland), as a guest artist at the International Music Seminars in Montpelier, France, and at the International Conference on Women in Music. She has performed for President Obama, the President of Israel, and the President of Ireland.
Stephanie plays harp on recordings by many other artists (including the Dixie Chicks, Sir Paul McCartney, Josh Groban, Lee Ann Rimes and Linda Ronstadt.
She has also appeared onscreen in television, movies and music videos, including American Idol, Dancing with the Stars, Ellen, THE SWEETEST THING with Cameron Diaz, Celine Dion's Christmas special, hit movie THE OTHER SISTER (with Diane Keaton, Juliette Lewis and Giovanni Ribisi); LOVE AFFAIR with Warren Beatty, GYPSY with Bette Midler, COBB with Tommy Lee Jones, and the FRANK SINATRA mini-series.
Stephanie Bennett's recordings are heard on many American radio shows including the syndicated shows ECHOES and MUSICAL STARSTREAMS, as well as on many overseas radio stations.
Stephanie Bennett began studying the harp as a junior high school student in Ann Arbor, Michigan, after having studied some guitar and piano as a child. She continued her studies of classical harp performance with Ruth Dean Clark at the University of Michigan, where she also studied composition with Pulitzer Prize winning composers Leslie Bassett and Ross Lee Finney. While in college she also began exploring creating her own arrangements of popular music. She continued her music studies at the Dick Grove School of Music and at UCLA Extension, with courses in Advanced Modern Harmony (including jazz and pop music harmony), Arranging, 20th Century Harmony, Film Scoring, etc. She was the first prize winner in the second Salvi International Competition of Jazz & Pop Harp held in Santa Barbara, California.
---
Check availability for Stephanie Bennett (harpist) »
---