Vanyah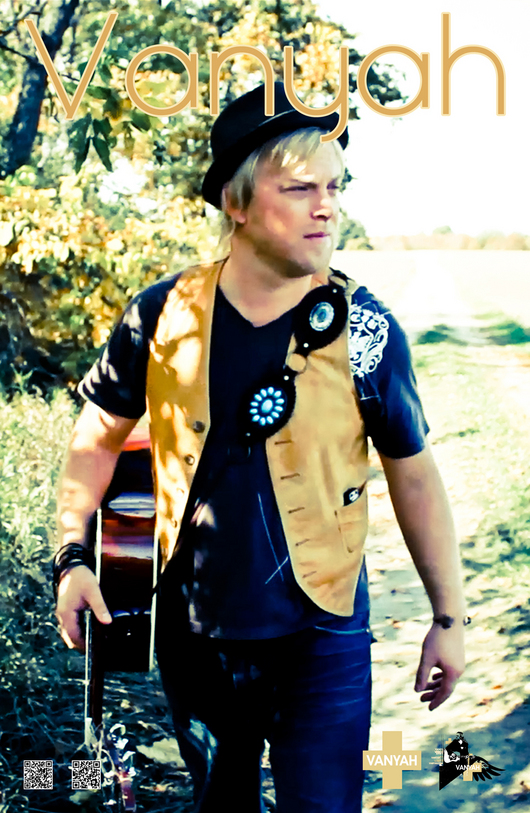 Vanyah has spent years traveling the world and honing his craft as a composer, live performer, and multi-instrumentalist, along the way writing hundreds of songs and amassing many albums worth of music. Now, he has finally released his debut album Colors via the label Collective Records, with distribution from Alliance Entertainment and publishing by YAH Publishing.
"This is the album I've wanted to create for a long time," the Waterloo, ON-born artist reflects. "Some of the songs are ten years old or more and some of them are brand new — it's almost like a best-of record. There are different chapters of my life in this album."
With the well-received album bringing together more than a decade's worth of material, it's only fitting that it contains a multifaceted mosaic of sounds and moods. Vanyah's many stylistic excursions reflect his days playing cover songs in bars, when his sets took listeners on a wild ride through pop, rock, country, folk, reggae, blues, jazz, and everything in between. He observes, "Colors is a calling card for a lot of different genres I like. It's very eclectic and colourful." It's a sound that's perfect for AAA, Adult Alternative, Alt-Pop, Americana, Roots, and Hot A/C radio markets, and yet still entirely unique to Vanyah.
His vibrant sound can be heard in the bluesy folk rock of "On the Rails (We Be Gettin' There)," the whirling organ of the reggae-leaning "All n' All," the slinky soul swagger of the seductive "Care Free Girl," and the pop-friendly hip-hop flow of the folktronica anthem "Perfect."
Vanyah worked on these sonically rich tracks with producer Darryl Romphf, with sessions taking place at a converted church in Conestogo, ON. Vanyah was joined in the studio by a crack team of contributors, including guitarist Kevin Breit (Norah Jones), drummer Davide Direnzo (Tom Cochrane/Jacksoul), keyboardist Ron Lopata (Jacksoul) and guitarist Justin Abedin (Jacksoul). These players, and others, help to give "Only Four Days" its rootsy rock muscle and "Your Kisses" its smooth after-hours warmth.
The band shows off its diversity on the mellow grooves of "One Life," as the arrangement complements the singer's peaceful reflections on the world. Of this song, Vanyah explains, "I live on a 95-acre organic farm. It's full of nature and animals and everything is interconnected. If I cut down a tree, I'm going to take away the home of a bunch of different animals. I see how dependent things are on each other. When you look at it on a grander scope, the whole globe is like that."
Sometimes, Vanyah's full band joins him during his electrifying live shows. At other times, he performs solo and meticulously weaves together intricate arrangements using his acoustic guitar, loop pedal and vocal processor.
Since the release of Colors, Rob Pattee Management has worked alongside Vanyah as the musician continues to tour and perform regularly. Ever prolific, Vanyah has participated in co-writing sessions in both Canada and Nashville, and he acts as a composer for other artists. Collaborators have included hit-makers like Ralph Murphy,Ian Smith, Casey Marshall and Steven Dall, plus Juno winner Crystal Shawanda, Canadian Indies Hall of Fame inductee Moe Berg (The Pursuit of Happiness),Canadian country artist Jamie Warren, up-and-coming duo Sons of Daughters, and Nashville production team Across the River Productions (Craig Wilson and Jay Tooke).
With so much new material in the archives, another new album is already on the horizon. "I have gigs and gigs of music data of various computers," he says. "That's the task now — cataloguing everything and getting it recorded."
---
Check availability for Vanyah »
---