The Twisters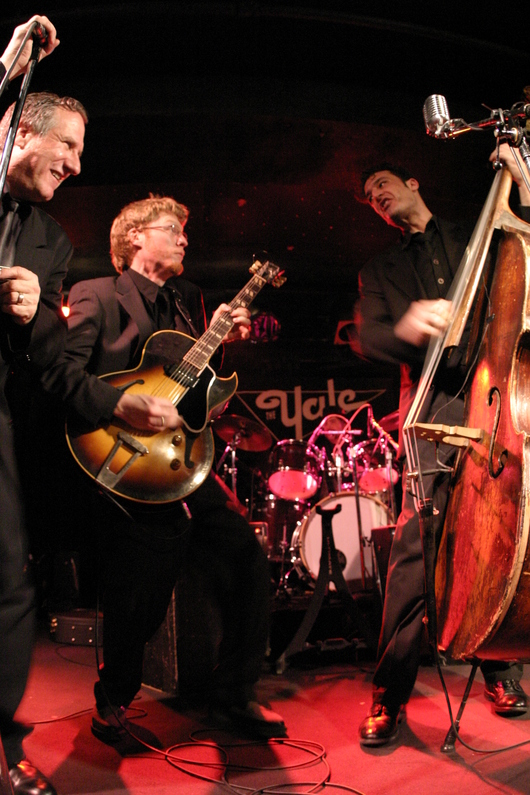 Watch The Twisters

Paying dues to the blues tradition, The Twisters swing hard with two inspired vocalists, tightly woven harp & guitar lines, upright bass and a relentless driving rhythm section forging a groove that refuses to be denied.
Each of the members has brought his musical talents and influences to the table, resulting in a potpourri of "Roots Cuisine" guaranteed to satisfy the most discerning palette. From deep in the Mississippi Delta to early Chicago shuffles, from infectious Texas grinders to West Coast jump, funky swamp-soaked Louisiana rhythms, to blues-a-billy swing, The Twisters serve up the goods. Top it all off with strong original compositions and a live show renowned for rockin' the house and there's only one thing left… do yourself a favour and see what the storm's all about when The Twisters blow through your town.
The Twisters, founded in 1994 by harmonica player/vocalist Dave "Hurricane" Hoerl, (originally from San Francisco) have recorded 5 albums, with another one on the way. Signed to the NorthernBlues label in 2006, their debut album for the label is After The Storm. Brandon Isaak, guitarist/vocalist for the band is from Whitehorse, Yukon. He is an exceptional songwriter, and both Brandon and Dave are the principal songwriters as well as vocalists for the Twisters. Most of their material is original. Their signature sound is guitar and harmonica weaving in and out, and they usually trade lead vocals as well as sing harmonies. Joined on upright bass by Keith Picot, an exceptionally talented slap/swing player and Chip Hart on the drums, The Twisters are known as Canada's top jump/swing blues band, and their current album on the NorthernBlues label, "Come Out Swingin'" released in 2009 has expanded their rootsy sound and material to include some reggae, R&B, and Gospel, along with swing and blues.
---
Check availability for The Twisters »
---