Sylvia Platypus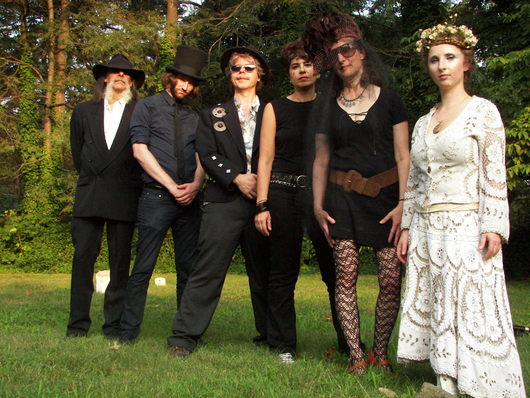 Watch Sylvia Platypus

If Edith Piaf partied with the Yardbirds on a windswept moor, the result might sound something like Sylvia Platypus. Sylvia Platypus is Philadelphia's (and possibly the world's) only psycho-celtic glam-blues band. Take the distinctive vocals and unusual poetic sensibility of Janet Bressler, add the soul-searing lead guitar work of Bill Barone (formerly of the 1970's era German progressive rock band Wallenstein), the eclectic guitar stylings of Michael Southerton, the solid rhythmic foundation of Ruchama Bilenky (bass) and Rosalba Gallo (drums) and throw in some wailing highland and uilleann piping from Charlie Rutan ("the Eddie Van Halen of bagpipes"*) and you have an original sonic signature that rattles the cage of "genre".
"A solid six-piece with something for just about everyone. Not at all a quiet bunch, tho' lead singer Janet Bressler presents a quiet power on stage, inwardly led to dancing, arms outstretched at just about any time in the set. She took her act to the audience in the first song..."
-Dan Herman, Radio Crystal Blue
"Burn's supper at the Avalon Ballroom would sound something like this..."
-Patrick Matherne, Celtic Music Magazine
"'Like a Vampire', sung with earthy fullness by Bressler, is rock at its best, with some hot guitar from Barone with a surprisingly delicate underpinning of bagpipes from Rutan. Then, they set rock on its ear with their cover of the Stones' 'Paint it Black', where Rutan's pipes take center stage.'Raggle Taggle Gypsy', a standard for Celtic bands, is re-imagined wildly and with passion by Bressler's raw vocals. And there's the haunting 'The Seagull (An Faoileag)', my back button favorite, which sounds traditional but was written by Bressler and Rutan..."
-Denise Foley, Irish Philadelphia
"Sylvia Platypus is a literate, ambitious group of bohemians with a sly sense of humor... Highlights include Bressler's smoky voice and elegant hats and the lead guitar of Bill Barone. Charlie Rutan...rock(s) out on the bagpipe and the rarely heard Neapolitan zampogna. Bring your own clove cigarettes."
-Raymond Simon, Philadelphia Weekly
"Janet Bressler has worn many hats, literally and figuratively, but none more dramatic than the 'psycho-Celtic glam-blues band' Sylvia Platypus. On SP's new self-titled EP, Bressler's girl-Iggy voice leaps furiously and tenderly over Bill Barone's crunching guitars and Charlie Rutan's bagpipes, while her rhythm section churns like Raw Power-era Stooges. Though they touch on gypsy jams and punk paeans, Bressler saves room for ballads and drinking songs on 'Pass the Tankard, Wench.'"
-A. D. Amorosi - Philadelphia City Paper
---
Check availability for Sylvia Platypus »
---