Saturday Night Bath Band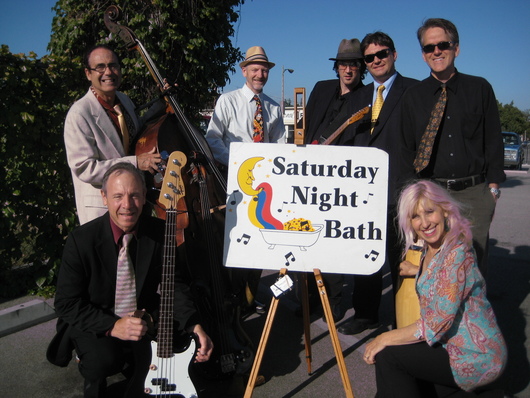 Watch Saturday Night Bath Band

Saturday Night Bath is dedicated to the performance of live blues, rock & roll, and jazz music, while educating and inspiring our youth. They are also available for corporate and private functions.
Performances began with local art festivals, highlighted by opening the Olympic Arts Festival in 1987, Barnsdall and McGroarty Art Centers and dozens of LA venues. Concerts for the City of Los Angeles Cultural Affairs Department began in 1987. The SNB youth ensemble began working in such clubs as Hop Singhs, Madame Wongs and Club 88. Our first juvenile hall concert was for "Dodger Day" at Los Padrinos in 1986, sponsored by the Los Angeles County Arts Commission.
We have given over 500 interactive concerts at local juvenile halls, continuation high schools, and probation camps throughout the state, connecting directly with more than 24,000 young people. We can also provide an elementary school program called "A Quick 100 Years of Music", that shows the musical progression from the blues created in America during slavery times, up to the present. City, county and state collaborations continue today.
Music includes original blues, rock & roll, hazz, and hip-hop as well as traditional "old-school" compositions. Contemporary influences are emphasized, and many referrals for arts study are provided.
Brief, indoor, pre-concert art/painting slide shows add a creative visual element to the program that corresponds to the music. For the brave, the opportunity to join our performance, whether playing and instrument, singing, or rapping is encouraged. Between songs, band members describe the origins, mechanics, inventors, and famous players of their respective musical instruments. Students who remember 10 music things win a harmonica and/or stuffed animal. Copies of our own concise 38-page music handbook and three written educational prompts are given to all schools. Three one-page questionnaires assess our impact.
---
Check availability for Saturday Night Bath Band »
---