Sonoran Brass Quintet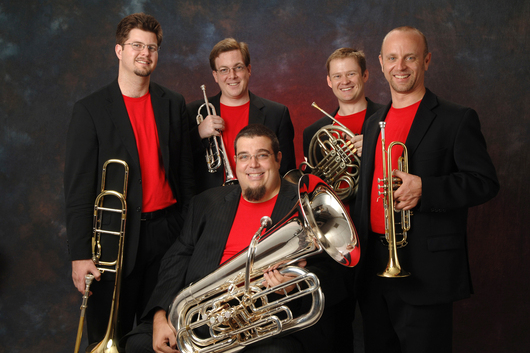 Widely acclaimed as an ensemble of the highest caliber, the Sonoran Brass Quintet has been captivating audiences for more than a decade. Sam Pilafian, founding tubist of the renowned Empire Brass acclaims:
"The Sonoran Brass Quintet is a group of musical virtuosos who have transcended the difficulties of performing on brass instruments. They have become master storytellers!"
The summer of 2008 saw the much-anticipated release of the Sonoran Brass Quintet's first full-length CD, entitled "Dry Heat." This exciting new album contains a wide variety of the quintet's favorite repertoire, from Renaissance works to 20th Century brass compositions to all-new jazz arrangements written exclusively for the quintet.
The Sonoran Brass Quintet has been featured with the Mesa Community College Band performing Eric Ewazen's "Shadowcatcher", a concerto for brass quintet and wind ensemble. The ensemble was the only brass quintet invited to present a recital as Guest Artists at the 2007 Southwest Regional Tuba/Euphonium Conference in Tucson, Arizona and has been chosen to be a featured ensemble during the 2009 National Convention of the American Guild of Organists. The members of the quintet were also participants in the Arizona Music Project, a program by the Arizona State Office of Tourism designed to feature some of Arizona's most talented musicians.
The Sonoran Brass Quintet has collaborated in concert with the Phoenix Children's Chorus and Orpheus Men's Chorus of Phoenix and joined the Grammy-winning Phoenix Chorale numerous times in concert. They have been named "Artists in Residence" at Central United Methodist Church in Phoenix, where they are featured regularly in services and recitals. The quintet has been featured on live television broadcasts across the state of Arizona and is also active in the arrangement, commission and performance of new works.
The group is beloved by audiences in performances ranging from standards of Classical music to Renaissance brass quintet literature to arrangements of Broadway shows, the Beatles and Duke Ellington. Charles Berginc, Principal Trumpet of the Phoenix Symphony, states the quintet's impression best: "...besides being musically polished to a high degree, the Sonoran Brass Quintet is just plain fun!"
The Sonoran Brass Quintet is available for recitals, masterclasses, clinics, church services, or weddings, adding the highest quality in brass music to any occassion.
---
Check availability for Sonoran Brass Quintet »
---