MAYES2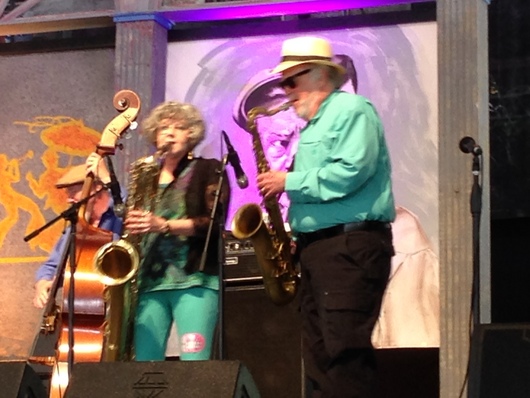 Like the rich gumbo for which New Orleans is known, MAYES2 mixes their sounds (flutes, clarinets, saxophones, vocals and keyboards) and styles (jazz, classical, R & B, originals, country and New Orleans music to form a multi-"taste-tual" musical experience!

MAYES2 is the story of how two versatile musicians met and joined musical forces: Frank & Cindy Mayes.

Frank, a Raleigh, North Carolina native and a graduate of North Texas University (B.S. Music Education) and California State University Northridge (Master's in Clarinet Performance), moved to Los Angeles, CA in the 1960's and has performed, recorded and/or toured extensively with Delaney & Bonnie, Duane Allman, the Beach Boys, Mac "Dr. John" Rebenek, Jerry Reed, the Supremes and many others.

He met his wife, Cindy, a fellow sax player and woodwind doubler in a Pensacola FL big band. She graduated from the University of West Florida with a B.A. in Music Education, having performed a great deal with many groups, including the Pensacola Symphony Orchestra, jazz, concert & pop bands in Pensacola.

After marrying and living in North Carolina, they moved to New Orleans in 1985 and proceeded to perform and/or record with many local and national musicians: Allen Toussaint, Dr. John, Aaron Neville, Dave Bartholomew, Al Belletto, Ray Charles, Martha Reeves & the Vandellas, The O'Jays, the Temptations, Lucy Arnez and countless others.

Although hurricane Katrina forced them from their home for months, they vowed to return and rebuild New Orleans note by note.

In August 2009, MAYES2 released their first CD as a duo, appropriately named "Finally! (Have Horns, Will Blow)" This CD is dedicated to create awareness of New Orleans unique music culture. Jazz, blues, R&B, classical, country and New Orleans music, MAYES2 covers it all and provides a historical context with fascinating facts. Enjoy the sounds of over three different centuries of New Orleans music and more!
---
Check availability for MAYES2 »
---