Mister Alison and the Morality Players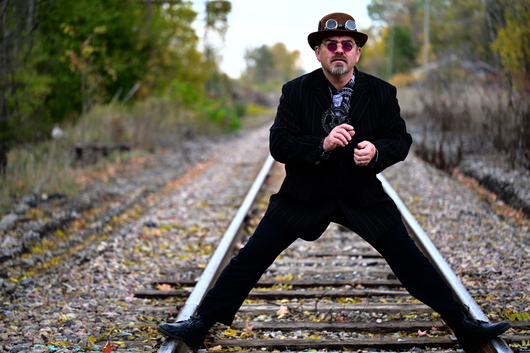 Genre bending Cyberpunk exposition!
When you hear the explosive voice of Mr. Alison get ready for a wild ride.
The songs in the show will churn and grind with all the civility of an iron forge.
He will tell stories of old, lost cities and the grim faces that live there.
You will be there looking out from the fire escape or trying to remember how many drinks you've had in the dimmest bar in town.
Maybe you'll be a passenger in the Tucker or on the endless train.
There will be landmarks and vistas from ocean to ocean and pole to pole.
And cigarettes, so many cigarettes.
His show, "It Is As If" begins in a vast and lonely metropolis then travels far and wide in a concerted effort to discover and reveal the mystery of identity.
Though Mr. Alison (given name Zebulun) is cautious to disclose facts about himself, perhaps his stories will make more sense to you than they do to him.
The songs include historical names, places and events as if they were cobbled together from hastily scratched notes during an ongoing series of jumps through time and space.
Interspersed are anecdotal monologues about where we are in the universe, where we're going and how we're getting there.
Albeit, strictly conjecture, of course!
---
Check availability for Mister Alison and the Morality Players »
---