Brass Over Bridges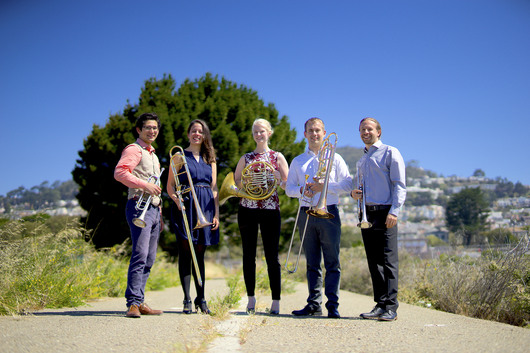 San Francisco based brass quintet, Brass Over Bridges is an ensemble that understands that music is all about connection. Inspired by the artistic community of the San Francisco Bay Area, Brass Over Bridges seeks to engage audiences with music across barriers of style and artistic discipline.
Recipients of the Aspen Music Festival's "American Brass Quintet Fellowship" and the Cypress String Quartet's "Cypress Award", Brass Over Bridges combines the sensitivity and expression of chamber music with with the resonance and color of brass instruments. In addition to their own concert series in San Francisco, Brass Over Bridges has performed at the Aspen Music Festival, The University Of The Pacific, Santa Cruz Symphony's Spotlight On The Symphony concert series and InterMusic SF's, SF Music Day.
In addition to performing concerts, Brass Over Bridges is passionate about supporting students and music education. From collegiate level masterclasses, to performances for middle school students, Brass Over Bridges designs programs to educate and inspire young musicians at all levels. The members of Brass Over Bridges are Matthew Ebisuzaki and Ari Micich, Trumpet, Margarite Waddell, french horn, Esther Armendariz, Trombone and Lucas Jensen, Bass Trombone.
---
Check availability for Brass Over Bridges »
---