The Vinyl Stripes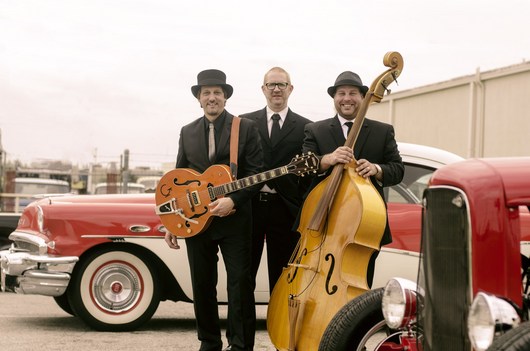 Watch The Vinyl Stripes

Rockabilly, Rock and Roll, Hot Rods, Drive-In movies, Car Hops,Surf Music, Early Elvis and Sun Records! It's that classic sound and look of the 1950's and 60's that influences the Texas based band "The Vinyl Stripes!"
With their skinny ties, 50's pork pie hats,Gretsch guitars, slappin standup bass and retro rocking drums, The Vinyl Stripes perform those great Rockabilly, Rock and Roll and Surf classic Sun hits from Elvis Presley, Johnny Cash. Rockers by Gene Vincent, The Beatles, Eddie Cochran, Buddy Holly, Dick Dale, and many other great artists of that era! The Vinyl Stripes also have many new original songs that even sound like they were from those long ago rockin days that you will love!
From 50's Rockabilly to 60's Surf Jams, Boppin Swing, Rock and Roll and instrumental guitar jams, you will definitely get real gone to the sounds of the Vinyl Stripes! Normally performing as a trio ( guitar, bass, and drums ), they are also able to add in a sax player. Great for that big swinging growlin Rock and Roll sound!
The band has performed for many concerts and festivals, are favorites at casinos, and also great for private events. They also perform for swing dances, 1950's and 60's theme events, car shows and parties both locally, regionally and nationally. The band has also had many of their original songs used on several TV shows and in feature films!
---
Check availability for The Vinyl Stripes »
---