Joe Stanton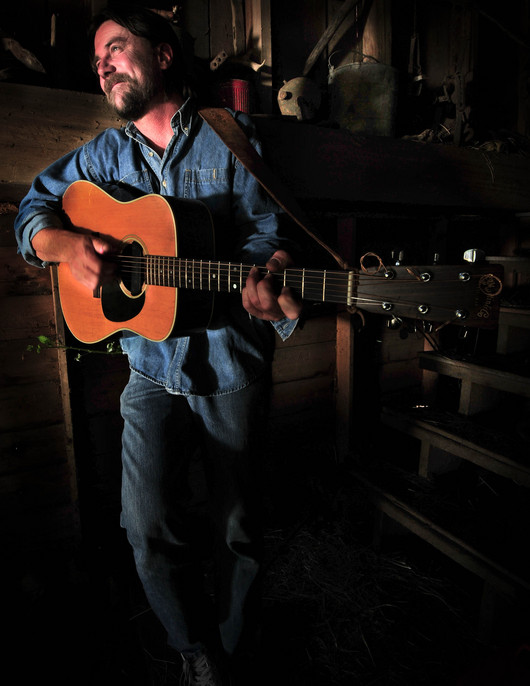 Biography
Joe Stanton, singer/songwriter, acoustic fingerstyle guitarist.
"With intricate fingerstyle guitar, earthy baritone and lyrics from life, Joe Stanton does what he loves – writing and performing acoustic music."
Joe's philosophy of "playing wherever they'll listen" has taken him and his Martin D28, on a 30 year journey from his favorites haunts in his home on the Canadian Sunshine coast, with regular stops throughout Washington State and Oregon, to a concert in a hot air balloon over the Swiss Alps, to the Kerrville Folk festival in the hill country of Texas, to the world fingerpicking championships in Winfield Kansas.
In the fall of 2013, Joe had the opportunity to play aboard the historic "Canadian" VIA Rail train from Vancouver to Toronto. Playing train songs and picking the guitar for the 3000 mile journey across the country.
Joe's acoustic guitar style has been likened to his heroes, Leo Kottke, Chet Atkins, Bruce Cockburn, and his songwriting has resulted in 5 cd's, styles ranging from Bluegrass, to contemporary folk, to alt country, all receiving radio airplay in Canada, the US , Europe and Australia, and 2 vinyl singles in the 1980's earning 2 BCCMA award nominations .
Over the years Joe has performed all over Canada, The U.S. and Europe. Highlights include performing for the Olympic Torch Relay at the Vancouver Winter Olympics, The Kerrville Folk festival in Texas, as well as the prestigious Vancouver Island Music festival in 2012.
Joe is always working on the next recording project, His most recent "Vintage" is a compilation of favorite songs from all of his releases, along with a few new solo guitar instumentals .
Joe Stanton
"Joe Stanton's grass-roots music gently grabs you and takes you on a timeless journey of people and places.
His lyrics are rich with imagery and emotion.
His voice resonates with an intimate style that warmly invites you into his reflective world.
Combined with his remarkable songwriting ability, Joe Stanton is a formidable guitar player.
From upbeat country rifts to dark sensuous chords, Joe's guitar is captivating.
He plays the full spectrum of music: folk, traditional country, swing and blues"
Sunstream Magazine – Sunshine Coast
I was awestruck by the talent of Mr.. Stanton and his band mates. Joe's love for the guitar is shown by his excellent picking skills, and are enhanced by his heart felt lyrics and powerful voice. The instrumental is absolutely
beautiful, the vocals are full and vibrant, and the overall production of this album is flawless. I strongly recommend a listen to Joe Stanton's Passenger Stanton.
By Wayond Digges Roots Music Report
---
Check availability for Joe Stanton »
---