Skeleton McKee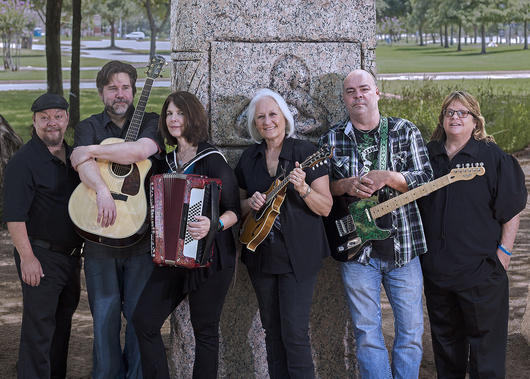 Watch Skeleton McKee

"Skeleton McKee's influences range from Irish folk to bluegrass to country to swing…Skeleton McKee has an original, smoky, bluesy quality to them that makes their music addictive, but satisfyingly traditional."
~ Molly Mollotova, Dallas Observer 3/15/2016
Skeleton McKee comprises jovial, experienced musicians who combine impressively diverse backgrounds to deliver the cream of the Celtic tradition with influences from folk, rock, blues and Americana.

Skeleton McKee does something a little differently…with an eclectic mix of Celtic folk, popular pub songs and ballads, and a wee bit of trad, blues, folk-rock and country. Skeleton McKee brings you Celtic-infused entertainment featuring great vocal harmonies, precision instrumentation and intricate rhythms.

Betsy Cummings (piano accordion, bodhran, vocals) blends historical and musical influences rooted in Celtic, Appalachian and bluegrass music that includes the folk, country, rock and blues of her youth.

Marj Troyer (electric guitar, banjo, mandolin, vocals) has a heart and humor belonging to Ireland and Scotland, but you can also hear her playing reflect influences from rock, folk, country, bluegrass and Western swing.

Rodger Harrison (electric bass, guitar, vocals) is a veteran road musician, touring the Northeast, Gulf Coast, Midwest, and Texas.

Trae Hamilton (drums, percussion) is a seasoned drummer, percussionist, tympanist and advocate of Scottish snare.

Jeff Christian (guitars, harmonica, saxophone, vocals) has been playing professionally since he was 17, has played with dozens of bands and is focused on writing and performing original material.
---
Check availability for Skeleton McKee »
---