Nick La Riviere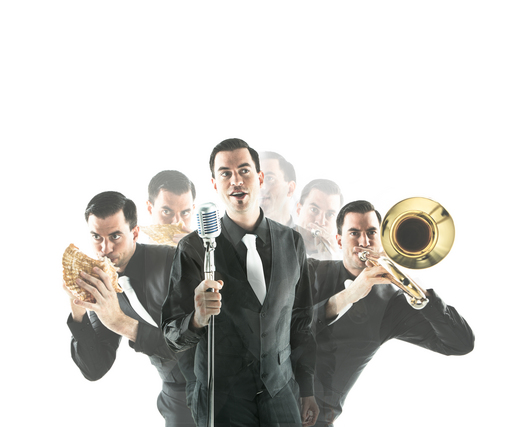 Watch Nick La Riviere

Composer, arranger, performer, singer, trombonist, band leader, conch shell player, bass player: Nick La Riviere is already well known in many circles as one of BC's busiest musicians. As a sideman, Nick has performed with award winning artists of many genres - Michael Kaeshammer, Nikki Yanofsky, The Temptations, Adonis Puentes, The Paperboys, to name a few. He regularly plays R&B, folk, funk, latin, klezmer, jazz, pop; pretty much everything. Nick's musical travels have taken him all over Canada, the USA, and as far as Germany, Switzerland, England, Ireland, Luxembourg, Mexico, and more. He also teaches a 16 piece R&B band, leads a few bands of his own, and performs often on a nightly basis.

With the release of Another Time Around, Nick prepares to take the musical world by storm with his own unique brand of genre-bending music. Every song on the album is original, with a blend of influences ranging from Sam Cooke to Jamiroquai to Ben Folds to Paul Simon. The album features a dizzying array of tempos, styles, and unexpected twists - all while driving forward with a cohesive unified sound. This is the album for everyone who likes variety in a performance - versatile musicians who can go from playing a heavy funky rock number right to a dynamic 12/8 ballad, or a catchy classic R&B style sing along. ?

"...his headlining appearances qualify as mark-your-calendar nights of entertainment."
-Mike Devlin, Times Colonist

"Nick's musical diversity has led to performances with some of the finest musicians in the country and abroad."-Devon MacKenzie, Peninsula News Review

"Infectious, energetic, and fun. This band has it all: African, reggae, and jazz."-Darryl Mar, executive/artistic director, Victoria Jazz Society

"The guy has a flare, which makes the music simply a joy to listen to."-Calvin Daniels, Yorkton This Week

"Nick La Riviere is one of the hardest-working musicians in town."-Adrian Chamberlain, Times Colonist

'Another Time Around' features a big sound and includes guests such as Michael Kaeshammer and Alpha Yaya Diallo. Tracks contain fun treats like a 22 piece choir, a multitude of trombones, and a string section. Juno nominated producer Joby Baker lends his talented ear to bring the mix to life. As a finishing touch the album cover features a '3 flip lenticular print' - the viewer sees a different image depending on the viewing angle. Why? Because this album is exciting, fun, and different - so why stop at the audio?

The 5 piece touring band achieves the energy and enormity of the album through the talents of its versatile musicians. Nick plays his trombone through a programmable harmonizer, which allows him to create the sound of a 3 horn section accurately in live performance, as well as a number of other effects. The band also features keyboard, guitar, bass, and drums. When budget allows, the band can be easily expanded to include strings (violins, cello), 2-3 piece female backup vocals, a horn section, and other options; however the 5 piece band is perfect for most situations.



---
Check availability for Nick La Riviere »
---