Mark Williams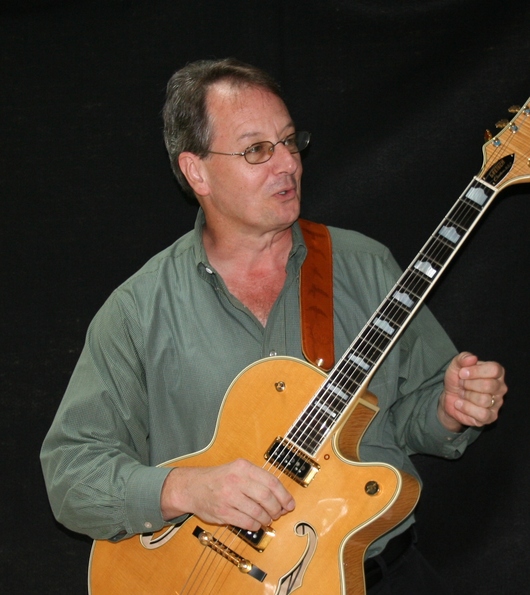 JUST JAZZ GUITAR magazine called his most recent solo 7 string guitar recording, "A real gem...a fine performance by a talented performer and arranger."
THE COLUMBUS OHIO DISPATCH wrote his music "swings from crisp bluesy numbers to nimble jazz workouts."
Columnist Fritz The Nite Owl noted his "moving, thought-provoking, mood-inducing music - played superbly, with a gentle swing throughout."
JAZZ IMPROV magazine wrote "Mark's jazz playing stands out...he far exceeds expectations in his treatment of chord-melody."
THE LONG BEACH CALIFORNIA SEABREEZE noted "Mark Williams adds a unique, soft ambiance."

Mark Williams has over 40 years' professional experience as guitarist, composer, arranger, recording artist and teacher. His mastery of the instrument is demonstrated every time he performs. Career highlights include live radio broadcasts from Los Angeles and concert performances with the Mansfield Ohio Symphony Orchestra, as well as extensive work in night clubs, restaurants, fashion shows and wedding ceremonies throughout Ohio.
Mark plays the 7 string electric-acoustic guitar in addition to the traditional 6 string model. The extra string has tones that extend farther into the bass range for a fuller sound. Booking Mark for your event is like hiring both a bassist and a guitarist for the price of one musician! One need only check out his audio recordings of Scott Joplin's THE ENTERTAINER, the Beatles' MICHELLE, the Gershwins' THEY CAN'T TAKE THAT AWAY FROM ME, or watch BREEZIN' or one of his other videos posted on YouTube to appreciate Mark's talent on this remarkable and unique musical instrument.
Mark's appreciation of music is eclectic, and spreads across genres as varied as Ragtime, Pop, Easy Listening, Rock, Rhythm & Blues and Jazz. His major influences on guitar include Chet Atkins, George Van Eps and the Beatles, but he has a style distinctly his own.
Mark was featured on 6 and 7 string guitars as well as an arranger on sax legend Chuz Alfred's recording A COLLECTION OF JAZZ FAVORITES FOR THE YOUNG AT HEART, of which over 16,000 CDs were sold. Mark has also released two recordings under his own name: HERE, THERE AND EVERYWHERE and WINTER NIGHT SUITE. Words and music on the second CD were all written by Mark.
Long considered Central Ohio's finest solo guitarist, Mark Williams creates the perfect musical ambiance for all occasions!
---
Check availability for Mark Williams »
---