Chris Canas Band - Blues Revolution with Chris Nordman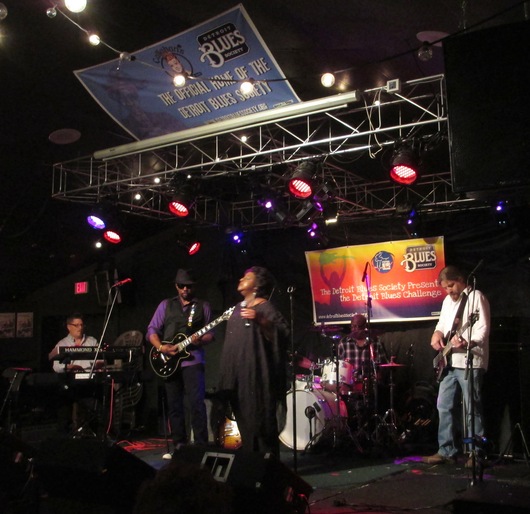 Watch Chris Canas Band - Blues Revolution with Chris Nordman

The Chris Canas Band is the Winner of the Detroit Blues Challenge 2014 - and is representing Michigan at the International Blues Challenge in Memphis, Tennessee in January, 2015.
The Chris Canas Band can be seen blazing a trail in the Metro Detroit area and beyond. The front man, Chris Canas (Guitar, Vocals, and Songwriter) has put together a who's who of veteran musicians to help keep the blues alive in the hearts of all music lovers. The Chris Canas Band has a well blended set of classic covers and funky smooth originals that keep the audience jumping and the party going.
Blending Blues with Motown, R&B, Funky Dance and Party Music, and Rock n Roll
Chris Nordman, Keyboard Player and Co Leader, is a 40 Year Member of the AFM, and has played professionally around the world.
Chris Nordman, was born in Wyandotte, Michigan in 1956. His father,
Chuck Nordman, was a school music teacher, and also taught private
lessons on piano, trumpet, and other instruments. Chris started bugging
his dad to teach him at an early age.
By Age 6, Chris was playing piano at church and school recitals and talent
shows. He found a second love in string instruments, and became an
accomplished cellist, playing in several area symphony orchestras,
chamber music groups, and in the World Youth Symphony at Interlochen,
becoming 1st chair, and playing with Van Cliburn, and under Howard
Hanson and other great artists and conductors.
At 14, Chris became assistant Parish Organist at St Hugo of the Hills
Church in Bloomfield Hills, Michigan. At 15, he became Organist and Choir
Director at Fellowship Methodist Church in Troy, Michigan, a position he
retired from at age 25. During this time, Chris wrote several
arrangements for small choral groups, as well as a collection of organ
music.
At 17, Chris began playing Bass for the Eddie Santini Orchestra, and soon
became the keyboard player. Chris arranged several charts for this horn /
vocal band that played events across the Midwestern US.
After getting an engineering and management degree from General Motors
Institute in 1979, Chris went to work for Gail and Rice Productions, one of
the leading talent and show production agencies in the country. There
was plenty of work for a piano / keyboard player, and Chris played
thousands of gigs the next 13 years at clubs, and for corporate events,
weddings, and other events with his band, and as a sideman. He also
played many shows with greats like Bob Hope, Mel Torme, Della Reese,
and many other artists and comedy acts.
Since 1991, Chris and his wife, Lori, have run a successful national event
rental company. Chris gave up the musical limelight for many years,
devoting his time to the business, and family. Now, with the
encouragement of Lori, Chris is returning to playing with blues, rock, and
jazz bands in Michigan, as well as Florida, where they reside during the
winter months.
As many will agree, all modern music comes from "the blues". Chris loves
playing the blues, with a style that infuses it with his years of classical
training, and playing jazz, standards, and commercial music. Chris has
stylistic traits that include introducing a bit of jazz into the blues with
passing tones, unusual chords, lightning runs and riffs, and dramatic
waves of sound.
---
Check availability for Chris Canas Band - Blues Revolution with Chris Nordman »
---