Michael Anthony Shanks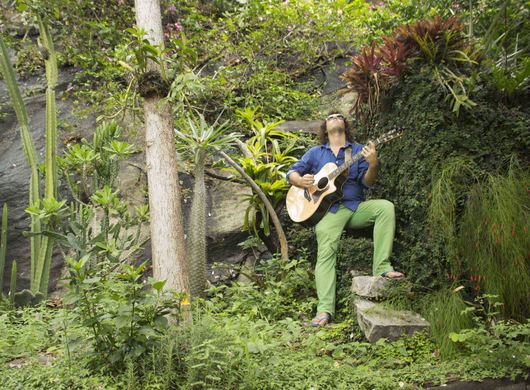 Michael Anthony Shanks is an extraordinary guitarist, musician, singer and songwriter hailing from "The Bayou City" of Houston, Texas. And it's precisely from the sounds of this Gulf Coast Texas city where Michael has forged his unique musical style of bayou folk, funk and blues. His live shows have captured audiences all over the United States and beyond with passionate shredding guitar solos, funky world beat jams and bluesy songwriting that makes you want to dance, laugh and cry all at the same time. Three-time Grammy nominee Jovino Santos Neto calls Shanks "An intrepid young musician who loves to groove."
Born in the wildly diverse city of Houston, Shanks grew up listening to music from all over the world. While being raised by his family on the likes of the Doors, CCR and Steve Miller, in high school he and his friends would frequent a plethora of live music events from psychedelic rock festivals to Indian classical concerts to Broadway musicals in Houston's thriving arts scene.
Hearing such different sounds has led Shanks all around the world always in search of the next enthralling sonic landscape. In 2002 he moved to Austin to hone his skills as a guitarist and songwriter. That's where Shanks created Ruby's Jazz Garage, his first project as a bandleader. In 2008 he moved to Buenos Aires, Argentina where he quickly inserted himself into a thriving blues scene. After touring a bit of South America as a solo artist, Shanks flew back to the States and settled in Seattle. There he performed with some amazing musicians such as Jovino Santos Neto and Down North.
In 2011 Shanks returned to Houston to find the city's music scene growing and has since shared the stage with notable musicians such as Mando Saenz, Stephen Hunley, Caretta Bell and Kacee Clanton. At the House of Blues Houston he has opened for Reverend Peyton's Big Band and Graceland Ninjaz. Recently Shanks was the guitarist in the hit Broadway show "A Night with Janis Joplin." He continues to write and perform music throughout the region with numerous artists and a new album is in the works for 2017!
---
Check availability for Michael Anthony Shanks »
---