Shire Feingold, Reed Doubler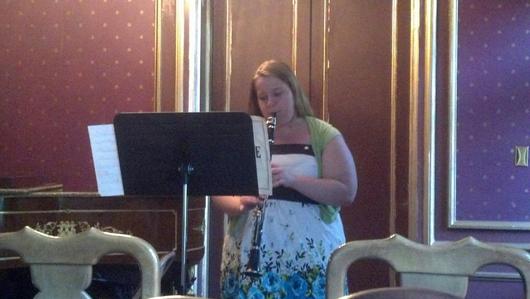 Shire Feingold, Master of Music in Music Management has been a musician for over 15 years. Her primary instrument is clarinet. She has performed in the Northeast and Midwest in numerous Orchestras and Wind Ensembles including the Ridgewood Symphony Orchestra, Columbia Summer Wind Ensemble, William Paterson Symphony Orchestra and Cornell College's Orchestra. In the past 10 years she has expanded her musicianship by adding several doublings to her resume. She has played dozens of musicals in the Northeast and Midwest including Centenary College's A Christmas Carol and Wizard of Oz. She is a regular in community theaters based in Fair Lawn, NJ. There she has been fortunate to play reed books for Les Miserables, Gyspy, Best Little Whorehouse in Texas and Wizard of Oz. While in the midwest for her undergraduate degree she participated in local productions of Pirates of Penzance and Beauty and the Beast.
Shire's doublings include the follow : Piccolo, Flute, Eb Clarinet, Bb Clarinet, Bass Clarinet, Tenor Sax, all recorders and tin whistle.
---
Check availability for Shire Feingold, Reed Doubler »
---