Spectacle Brass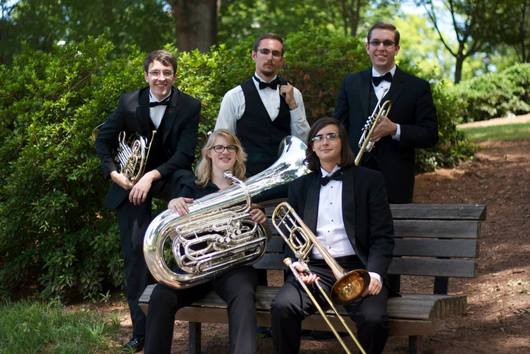 Watch Spectacle Brass

Spectacle Brass performs a wide variety of music ranging from classical standards to ceremonial music, church music, jazz, pop, and commercial works.
Whether you are presenting a concert series or looking for music for your wedding or corporate event, Spectacle Brass strives to create an exciting and interactive musical program that will engage audiences both young and old.
As a brass quintet, Spectacle Brass has performed around the country, including at the Crested Butte Music Festival and as a finalist in the 2013 Calvin Smith Brass Quintet Competition in Knoxville, Tennessee.
Bio:
Founded in 2012, Spectacle Brass is committed to bringing high quality brass music to the Atlanta area and beyond. The group performs a wide variety of styles in various settings, including jazz, classical, pop, rock, and ceremonial/religious music.

Frequently involved in special events, weddings, church services, and concerts through the Southeast, Spectacle Brass has provided music for churches and synagogues and organized charity and educational events. In January 2014 the quintet was invited to perform for the opening of exhibits at the Georgia Music Educators Association In-Service Conference in Savannah, Georgia.

Recently a finalist in the Calvin Smith Brass Quintet Competition in Knoxville, Tennessee, the group has performed in numerous concert venues, including the Cobb Energy Centre, Bailey Performance Center, Cox Auditorium at the University of Tennessee, Savannah International Convention and Trade Center, and Quigley Concert Hall at Western Colorado State University. During the summer of 2013, Spectacle Brass performed alongside the Boston Brass at the Crested Butte Music Festival in Colorado.

The ensemble has given two world premieres at the Kennesaw Festival of New Music and recently performed the Suite from Bernstein's Mass with the Wheeler Wind Ensemble in Marietta, Georgia. Committed to outreach, Spectacle Brass gave a benefit recital for the Children's Healthcare Center of Augusta in 2012 and has provided educational programs at a number of Georgia schools including McEachern High School, Kell High School, and Kennesaw State University.

Spectacle Brass has performed in masterclasses for the Boston Brass, Chicago Symphony Orchestra Brass Quintet, Atlanta Symphony Orchestra Music Director Robert Spano, and this coming year, the American Brass Quintet. [2014]
---
Check availability for Spectacle Brass »
---