Lisa Haley & the Zydekats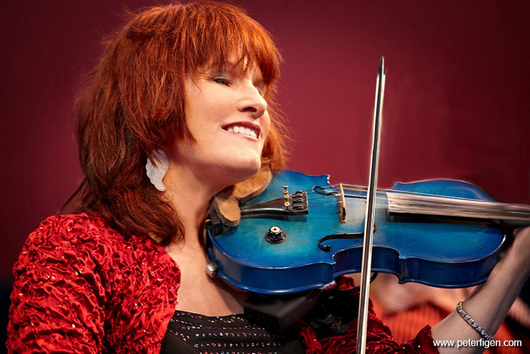 Watch Lisa Haley & the Zydekats

GRAMMY Nominee - Americana/Cajun/Zydeco

The most joyful Americana/Cajun/Zydeco act on tour today!
Since beginning in 1995, Lisa Haley & the Zydekats are the world's most beloved Americana/Cajun/Zydeco band.
Charting on Billboard 2008 with GRAMMY® nominated "King Cake" and 2011 with "Absolutely Live!," Lisa's adventuresome show includes original tunes and Louisiana Bayou, French Celtic, R&B and Jazz rhythms.
This fourth-generation fiddler, dancer, vocalist, and songwriter inspires all ages with her blue violin and soaring, compelling "cornbread" voice.

Among her fans are Keb'Mo' and Little Richard.
Starting November 3rd, 2011, one of Lisa's music videos is featured on AOL.com, ESPN, and YouTube (350,00 hits in 7 days!)
National touring act, representing modern Zydeco for GRAMMY Museum / Hollywood Bowl Summersounds / Sir George Martin (Beatles producer) film "Rhythm of Life."
2011 Tours in Switzerland, France, Borneo, Canada and US including Telluride JazzFest
Preparing to make album #8, planning to go from "GRAMMY Nominee" to "GRAMMY Winner," and expanding into Asia and bigger festival venues in the US and Europe
Three women in our five-piece band, with Lisa Haley violin, Gigi Rabe "Accordion Diva" and amazing drummer Maria Martinez
Touring in over 20 countries - World, Folk, Jazz, R&B, Blues, Country, Bluegrass, Rock, Pop, Cajun/Zydeco Festivals; Fine Arts Centers, Family Entertainment, Film Industry & Corporate events
Pollstar Box Office sellouts on US and European dates
Prepare to catch "Zydecosis!
- The ultimate compliment: "That girl plays as good as a man!"
- Clifton Chenier, "The King of Zydeco"
"Lisa has the Spirit in her, big time! Her music just plain grabs you and takes you over!"
- KebMo', multi-GRAMMY winner, co-producer, "Talking to the Sun" on Ryko/Warner
"...enormous fun... makes people want to get up and enjoy!"
- Sir George Martin (Beatles' producer)
"A world-class show – all the way to the top! We need more like Lisa Haley!"
- John Ertl, Bastille Days Fest, Milwaukee
"The 'Mick Jagger' of Zydeco – Swamp-Rock ala Bonnie Raitt and Lucinda Williams"
- Jake Bacon, KUCI Radio
---
Check availability for Lisa Haley & the Zydekats »
---