Chasing Blue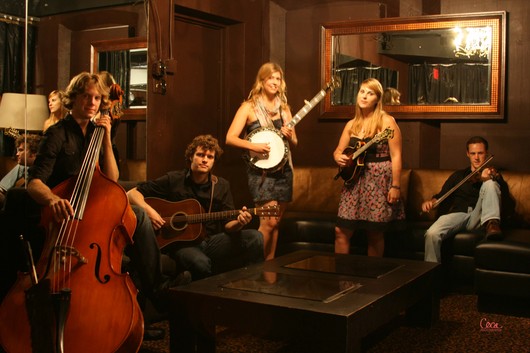 Chasing Blue came together in the fall of '08 at a bluegrass ensemble at Berklee College of Music. Band members hail from across the United States and Canada, and now reside in Boston, MA and gig heavily in the New England festival circuit. Chasing Blue is plays a mix of original and traditional bluegrass material with unique arrangements and hard-driving style. Original material holds true to the bluegrass tradition but strong lyrical ideas and progressive musical ideas make the Chasing Blue sound.
Notable venues Chasing Blue has played:
Grey Fox Bluegrass Festival Master's Tent, NY, '10
Joe Val Bluegrass Festival, MA, '09,'10, '11
Podunk Bluegrass Festival/Band Competition, CT, '10
IBMA Showcase, TN, '09
North Shore Folk Festival, MA, '10
Down East Country Festival, ME '10
The Music Barn, NB Canada, '10
Threadgills, TX '10
FOX News Austin, TX, '10
KUT Folkways Radio, TX, '10
International Folk Festival, Berklee Performance Centre, MA, '10
Berklee Encore Scholarship Gala, MA, '10
Cafe 939, MA, '10
Start on the Street, MA '09
Suzanne Oleson- mandolin, vocals. Born and raised in Austin, Texas, Suzanne now attends Berklee College of Music where she majors in Professional Music with an emphasis on songwriting and music business. She began playing the mandolin at the age of 12 and has been lucky enough to study with world-renowned musicians including: Darol Anger, John McGann, and Eugene Friesen. She has also been honored to share the stage with the California Guitar Trio, Terri Hendrix & Lloyd Maines, Billy Bright, The Two High String Band, and Bert Lams & Tom Griesgraber.
Maggie MacKay- banjo.Maggie is the first female principle banjo player to graduate from Berklee College of Music with a degree in Professional Music with an emphasis on songwriting and performing. A Nova Scotia native, now residing in Boston, Maggie fuses her maritime influences with blues, rock, and traditional bluegrass. She has released a short EP produced by Special Consensus' Ryan Roberts and is currently recording a full-length solo album of original tunes featuring Ron Stewart, Steve Thomas, Shad Cobb, and David Thomas.
Mike Reese- guitar, vocals. Michael Reese was born and raised in Cincinnati, Ohio where he learn the bluegrass tradition from his father and mother " Larry and Cindy Reese". At fourteen he was excepted into the School for Creative and Performing Arts were he studied jazz guitar, and orchestral percussion. Michael and his parents, started a family bluegrass band called "NewClover", where Mike played the 5 string banjo. Mike donated his time and talents along with his family to play at The Clovernook Center for the blind and Visually Impaired in Cincinnati, as well as Miami White Water Senior Center. Mike recorded and produced two bluegrass albums over a three year period.
Alex Muri- bass. Alex hails from a small farm in Sudbury, MA and began playing bass at the age of six when he started studying classical music with his school orchestra. He is now the principal bassist in the Berklee Contemporary Symphony Orchestra, and has performed with many notable musicians including Mark O'Connor. He is now studying jazz, celtic, and bluegrassstyles and is pursuing a degree in Music Therapy. Alex plays an NS Design Bass.
---
Check availability for Chasing Blue »
---