Colleen Lloy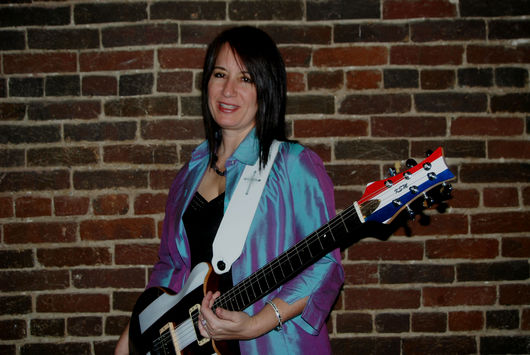 Although her name is not yet a household word, chances are if you've spent any time in the Sacramento area or Nashville, you have heard of COLLEEN LLOY. She has been performing for many years in all the local "hot spots". LLOY also has been recognized for her dynamic performance during the annual California State Fair. No matter where you may have heard this lady, you can bet she has a voice you will never forget.

This native Sacramentan's first recording was a song "Sooner or Later" which was the number 2 song on an album for a charity, "MADD" (Mother's Against Drunk Drivers). Critic Mick Martin wrote: "The most impressive of these is Colleen Lloy whose "Sooner or Later" is an absolute knockout. If this fine singer isn't signed by a major label, there's no justice in the music world." This recording brought attention to City Kidd's manager who asked Lloy to join the Band City Kidd and played with the original members now known as Tesla.
LLOY over her musical career has entered and won many music competitions one of which was the Jimmy Dean/True Value Hardware Music Competition where she won first place in Northern California which ultimately brought her to Tennessee.

LLOY, an award-winning singer/songwriter fell in love with the musical city and decided to move to Nashville, TN to pursue her singing and songwriting career in 1999. Like many artists, she has a story of courage and stamina where she quit her job, sold everything she owned and on a wing and a prayer moved to Nashville. It did not take long for the industry to realize this lady has major chemistry and charisma on and off stage. Coined the "chameleon" by many, she proves she has an unusual style of singing able to cover any type of music with ease.

2000 was a difficult year for LLOY who lost her brother. She went into the studio and recorded "Life Challenges" and released the song "Can You Hear" to radio. It charted 26 on the Christian Country Music Charts and is receiving great airplay in many countries.

• Decatur Celebration- "The best description of Colleen Lloy is a chameleon."
• Sacramento critic, Mick Martin writes: "The most impressive of these is Colleen Lloy whose "Sooner or Later" is an absolute knockout. If this fine singer isn't signed by a major label, there's no justice in the music world."
• Nashville Music Guide Critic Brad Fisher gives Lloy's "Life Challenges" CD a five star rating and writes: "This ten-song CD is an emotional roller coaster that runs the gambit of love. The tunes were either written or co-written by Lloy who has a beautiful set of pipes which she shows off on this album."

LLOY believes in giving back to society and participates in one charity after another such as Payitforward Festival raising money for the Tennessee Children's Home and various local charities, American Red Cross, Susan G. Komen for the Cure, to name a few. She is also a keen advocate of our U.S Military and has written a song called "You're Gonna Fly" and "Missing You" for the soldiers and has made this song available to all soldiers free of charge. Her main focus on her career is helping the Veterans and our men and women serving in the military. LLOY is actively working with chapters of the Veteran's Memorial Foundation.

LLOY has literally played all over the U.S. and abroad and returned from two USO shows in Italy. She is a frequent guest at the nationally known Bluebird Café, has done television and radio broadcasts and has opened up for artists like Billy Dean, Paul Overstreet, John Berry, Lee Greenwood, George Jones, Billy Ray Cyrus, Tanya Tucker and many others. LLOY had the rare privilege of interviewing Mr. B.B. King for a proposed television show which she indicates is the highlight of her music career thus far.

In any event, whether you see her on a big stage or a small quiet room tucked away in her favorite clubs, we are quite sure you have not heard the last from COLLEEN LLOY.
---
Check availability for Colleen Lloy »
---