Mochi Freeman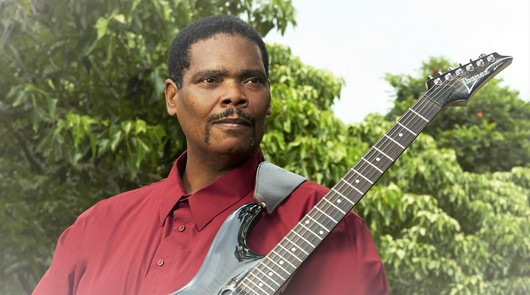 Mochi is an accomplished musician from Hawaii. While his first love is singing, he realized quickly that he also needed to play an instrument. Though he only plays guitar on stage; on his backing tracks he sings and plays: piano, drums, bass, synthesizer, and violin.
He has played with various bands since high school but learned how to play guitar at a very young age. "My parents bought me a guitar, and my uncle taught me the blues." Mochi says.
Mochi grew up in a musical family. Both of his parents were singers and his mother also played the piano. "I just wanted to sing but picked up the guitar." And it's a good thing he did. He is passionate about music and enjoys playing various venues in Hawaii and also on the mainland. He spent several years in the military and several in California. In California he kept busy picking up more skills while playing with country and rock bands. "I started out singing back-up and playing back-up guitar, but they had trouble hanging onto bass players, so I picked up that to help them when in between bass players."
Mochi has played for other artists at such places as Anna O'Brien's, Surfrider, Hawaiian Brian's, Hyatt, Tio's, Willie J's, The Irish Rose and more. He has performed on his own at Da Spot, Surfers Cafe and various churches around the islands.
Musically his influences are legendary performers such as: Hendrix, Petty, BB King, Clapton, Marvin Gaye, Floyd, James Brown, Elvis Costello, The Temptations, and on the top of his list is Sam Cooke.
Mochi is an elder musician that plays cover tunes from the 60's, 70's, and 80's in local restaurants and cafe's. He is a Retired Navy Veteran (with disabilities), a Christian Praise and Worship Leader, and a member of the local Hawaii Musicians Association (AFM Local 677).
"I've learned that worshiping God and playing music are my safe harbours. So after years of being the backup guitarist and backup singer for road bands in my younger days, I am stepping out on my own and doing what I've always loved doing, and doing it my way, in my own style."
- Mochi
---
Check availability for Mochi Freeman »
---